Planning to move in to a new place? Make sure to know all the tips for moving into new house that will simplify the process and make your life easier!
It feels good to see the prospective house to be inhabited. Surely you would have imagined the layout of the furniture in each room or paint colors of the house before moving out.
However, the days before moving house, things got messy. You get confused about what items to take and leave. You'll start to get headache of arranging your things into boxes so they can fit into the transport car.
Well, this is a common issue that happened to most of people. However, don't get confused or stressed.
Here are 10 tips for moving into a new house that will help your moving process easier and more efficient!
Tips 1: Make a List of Items to Bring When Moving House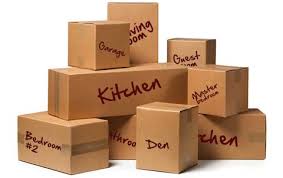 Making a list of items is a basic thing for you to do. Before you pack a box or cardboard, create a simple record keeping system. Make numbers and fill in the boxes that will be numbered with each of these numbers. You can make the list with the help of a computer so you can just print with the printer.
Using computer assistance aims to speed up your work which is busy with moving house activities, the list of items will look tidier. Attach the numbers with the help of tape and scissors to each box that has been packed.
Don't forget to save the list of contents properly, in an affordable place if at any time you forget where to put it.
Putting Boxes from the Same Room
Stack the boxes and fit in a group according to the origin of the room. Then paste the label or number that you have made in the list. Put all things and kitchen utensils together, everything in the bedroom, living room and other rooms together. That way, you can unload all boxes from the same room at the same time after moving house is over.
Tips 2: Save Priority Items in Your Usual Bag
The process of moving house is not short and easy. It makes it easy for you to forget the location of the items you need. A troublesome moving activity often makes you forget where your belongings are.
Try to put items that are very important and personal such as money, passports, important documents and so on in a special bag or storage box that you can carry around, making it easier for you to reach these items.
Besides that, you can also put it in a transparent plastic container or organizer. So you know exactly where your important belongings are.
Tips 3: Take Advantage of Large Furniture When Moving House
The perfect home furniture to rely on as an alternative storage area when moving house is the wardrobe. This tall box is perfect for large and light items such as blankets, pillows and bed linen, as well as clothes that need to be hung up.
Measure the transport car that you will use when moving house, whether it can load your wardrobe safely. Then, measure wardrobes from largest to smallest such as storage drawers and shelves to see how many boxes of wardrobes can fit.
Apart from the wardrobe, you can also use shoe boxes and other large items such as large baskets. You need to remember not to make cabinets or other shelves too heavy to lift.
Tips 4: Pack Your Items Long Before Your Moving Date
It's time for you to sort out which items should be put in the box long before moving house. Start packing items that are usually only worn on celebration days.
Suppose you move in March or April, you can pack decorations for Eid or Christmas. Of course you won't wear those decorations after moving house. Then, tidy up the cooking utensils that are rarely used. This method will make it easier for you to pay in installments in the arrangement of your items.
Tips 5: Time To Leave Unused Items After Moving House
How many items have you not seen in a year, suddenly when cleaning the cupboards and warehouses that appear?
Ask yourself whether after moving house you will use these items or not. Try to sell items you no longer use or donate. You can donate or resell items such as books, used clothes that are still fit for use, or bags that you no longer use when moving house. Moving house helps you to make money and help others.
Tips 6: Take Advantage of The Shop Next Door as a Source of Cardboard for Moving House
Moving house is synonymous with a new atmosphere and starting from scratch. However, in the process of moving houses, not all of them have to be new and spend excess money. You can minimize the budget for moving house activities. One way is to take advantage of unused boxes from shops near the house.
Dare to ask the shop owner if you can take him home or not. If so, choose a cardboard that is still in a good and sturdy shape so you can store your valuables properly and stay safe during the moving house process.
Tips 7: Stop Buying Groceries One Week Before Moving House
Surely you don't want to see the rows of food that still fill the refrigerator on D-1 before moving house, right?
Instead of the food ingredients being packaged, they have to be thrown away. Try not to overfill the refrigerator a week before moving. Cook it sparingly. If the supplies run out, you can order food from outside for a while until the day you move your house.
Tips 8: Choose The Right Moving Day
Make sure the best day out of your busy schedule. Don't let your moving day clash with an important day at the office or a family anniversary.
It's good to plan the most appropriate day to move house so that you and your family can also help each other when moving things into the house.
Tips 9: Pay Attention to Small and Fragile Items That are Often Forgotten
Small items that you need to pay attention to that might be left behind when moving house such as a TV remote, earphones, cellphone charger cable, or USB cable. You can take advantage of small boxes such as shoe boxes or cellphone boxes that are not used.
Putting it in a zipper plastic bag can also be an option to make it easier for you to see what's inside the plastic bag. Meanwhile, fragile items can be wrapped in bubble wrap, cloth, and small towels.
When packing into the box, try to keep the space inside the box not too stretched to avoid shocks while in the transport car.
Bottom Line
So are you ready to moving in to your new house? Tell us in the comment section if these tips are useful for you.
Read Also: How to Make Small Room Look Bigger?