One of the problems most experienced by homeowners is the unpleasant odor. In this article, we're going to give you 14 tips to make your house smell good.
Bad odor not only disturbs the owner of the house, but makes it a shame if there are people who visit your house, especially if it is important guess.
Just spraying the air freshener is sometimes not enough to get rid of the unpleasant odor.
But don't worry, there are various smart ways that are easy to do to make the scent of the house become fresher and fragrant.
1. Placing Plants in the House
In addition to giving a beautiful impression to the room, plants can give off a fragrance to your home.
You can place various types of plants, such as flowers:
Geranium

Arabian Jasmine

Tuberose

Eucalyptus

Gardenia

Orchid

Cuba Oregano
Placing fragrant flowers in the house can make the home smell amazing.
2. Maintaining Air Circulation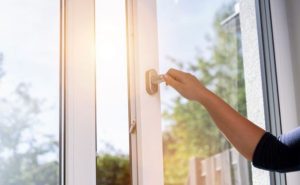 A fresh home must have good and sufficient air circulation. Every morning or evening, open the window and door so that air can change and let clean fresh air come into the house.
For best results, open windows in several rooms to get a gentle breeze.
No wind blowing outside? It is okay. Turn on the ceiling fan and place the box or table fan near the window to draw in fresh air.
This might not be practical if it's very cold outside, but even a few minutes can really help your room smell clean and healthy.
3. Routinely Cleaning Nearby Items
Provide one day a week to clean up the items in your house to remove bad odors and dust.
Bad smells usually come from:
Dog or cat bed

Dirty garbage disposal

Leftovers in the fridge

Carpet that is rarely cleaned

Damp laundry
There are still many other factors that could be the cause of the odor in your house. Do not be lazy to clean the house.
4. Coffee Beans
Coffee bean has long been used by many people to eliminate all kinds of unpleasant odors.
Bring water to a boil then add the ground coffee. If you only have the beans, that won't be a problem.
Place the coffee beans in a small bowl then place them in each corner of the room so the smell can spread.
Coffee beans make the room comfortable and have an elegant impression. In addition, you can also buy candles with coffee aroma on the market. A softer fragrance can make you more relaxed at home.
5. Baking Soda
This one cake-making ingredient has many benefits for household matters, including air freshener.
The trick is to mix ½ cup of baking soda with a few drops of essential oil, put in a glass jar and cover with a hole in the paper.
The sweet aroma will last all day at your house.
Use Baking Soda at Your Carpet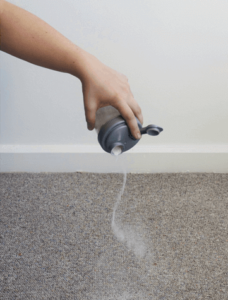 Unlike tile and wood floors, the carpet is able to absorb various unpleasant odors.
Especially if previously a lot of food is spilled or the carpet becomes a 'field' to play pet pets.
Sprinkle baking soda on the carpet and let it sit for several hours before you suck the dust.
6. Keep The Kitchen Clean
The smell of cooking, food scraps, vegetables, or rotting fruit, because from the kitchen can make the house smell bad.
Make sure to dispose of trash properly. Get rid of vegetables and fruit neatly to avoid inviting lice.
A dirty fridge also can create bad odor.
Clean the Sink
Does your kitchen still smell bad? If so, you might need to check the sink. First try to put a spoonful of lemon-scented perfume soap into the drain, then flush with water.
You can also use lemon or lime juice to improve the scent at your disposal, by dousing with plenty of water. If the odor persists, pour it in 1/2 cup of baking soda while rinsing using warm water.
7. Stewed Oranges & Apples
You can also use fruit as an air freshener. This time we make use of oranges and apples.
Step by step:
Cut the oranges and apples thinly. The thinner the fruit pieces can make the drying process faster.
Then, dry in the sun to dry.
Put it in the pan, add clove and 3 cinnamon seeds and boil it.
After boiling, put water and ingredients into the jar.
8. Vanilla and Cinnamon
The next way to make a fragrant house is to use cinnamon and vanilla. This scent blend is very delicate and has a long-lasting scent.
To make it, use a glass jar that is not used as an air freshener container. Also make sure the jar you use is heat-resistant. Then boil some cinnamon sticks and pour a little vanilla extract.
After everything is mixed, put it in a jar. You can also add dried apples. Wait a moment and your house will have a soothing aroma.
9. Bake the Cake
Who is not tempted by the aroma of cake fragrances?
If you like the aroma of cake, bake cinnamon rolls or banana bread. 
10. Spices
In order to make your house smell good, you also can take advantage of your kitchen ingredients.
Boil water in a medium-sized saucepan. Then, add a few pieces of orange or lemon. Also add spices such as mint leaves and lavender flowers. Provide a heat-resistant glass jar and add the processed spice water to it.
This method is effective for removing odors because hot steam absorbs unpleasant odors in the house.
11. Use Dryer Sheets
Dryer Sheets are usually found in washing machines or cabinets. This drying paper is able to keep clothes fragrant and keep the air fresh. It is better to install dryer sheets in the laundry room.
12. Throw Trash Regularly
Every time the trash bin is full, immediately throw it away and replace it with a new sack.
Do not let the garbage pile up for days inside the house. Once in two weeks, you have to wash the trash bin so that it doesn't smell bad.
method also applies to beds.
13. Use Pandan Leaves
Use the aroma of pandan leaves to make your house smells great.
To make it, just enter slice of​​pandan leaves into a bowl or an open container. Then, you can put the bowl on the toilet, shelf, or in the corner of the room.
Fragrant pandan leaves can last for three days to one week. Besides the house becomes fragrant, it will help to get rid of mosquitoes at home as well!
14. Air Purifier
Above methods are the natural way to make your house smell good. And of course, we do recommend you to use air purifier for more effective purpose.
Here are some of the best air purifier in 2020 according to ConsumerReport:
Best Buy with the Lowest Price:
Blueair blue pure 211 is one of the best selling and excellent air purifier that can remove particle and bad odor in high speed.
It's rated to be one of the best air purifier with the friendly price with it quality.
Best Buy with the Lowest Price:
With a slightly lower price than blueair, Honeywell is another excellent air purifier with the high rating. It has capacity of 775 square feet room.
Okaysou
AirMic4S provide you a super quiet noise from their advanced turbine motor with streamlined vanes. All you need to do is just leave it without worrying any problem and sleep peacefully. In addition with the silent noise, they also have a tiny, beautiful, and compact design which make it extremely portable!
Bottom Line
Maintaining a good smell in your house can create a positive vibes and good impression, either for the house owner and the guest.
Share this to your friends and help them to make their house smell good too!