Do you enjoy eating the peeled ready red apple by grandma? Sadly, grandma is not with us forever to pamper us in this kitchen chore.
Peeling fruits can be dangerous especially if we are not careful enough. Having those tiny accidental cuts from the steel blade peeler can hurt really bad. A deep cut or slight cut would be the most dreaded incident to expect.
Our fingers are so important for us to do our daily tasks. It would be most inconvenient if we hurt our fingers or hands as almost everything we do, uses this body part the most.
But what if we tell you there is a life hack gadget that can save your life from these incidents in your kitchen? Check out below!
---
Automatic Fruit Peeler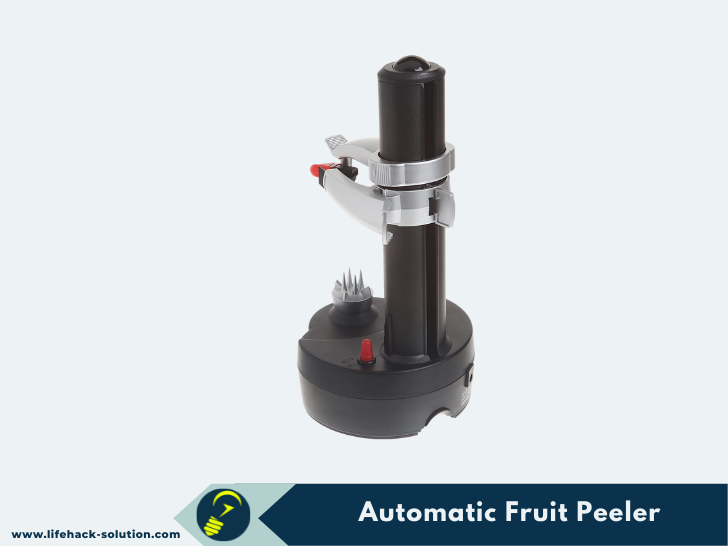 Humans are just amazing in all kinds of creations to solve every problem in the world. Introducing the Automatic Fruit Peeler. This cool invention is able to peel all kind of fruits without your manual effort using your fingers.
This Automatic Fruit Peeler also known as electric peeler is made of durable ABS plastic and has a stainless-steel blade material with a connection to a voltage adapter. On average, it measures around 6.31 X 6.5 X 11 inches (L x W x H).
There are two extra built-in blades in the compartment. It also comes with a handy thumb knife as a complimentary functionality.
The non-slip base is designed to ensure stability and safety while using it. The best part is also it is easy to be cleaned.
Peeling is safer now, quick, and easy with the electrical peeler. It peels the skin without wasting any of the nutritious part of the fruit or vegetable.
---
How does the Automatic Fruit Peeler Work?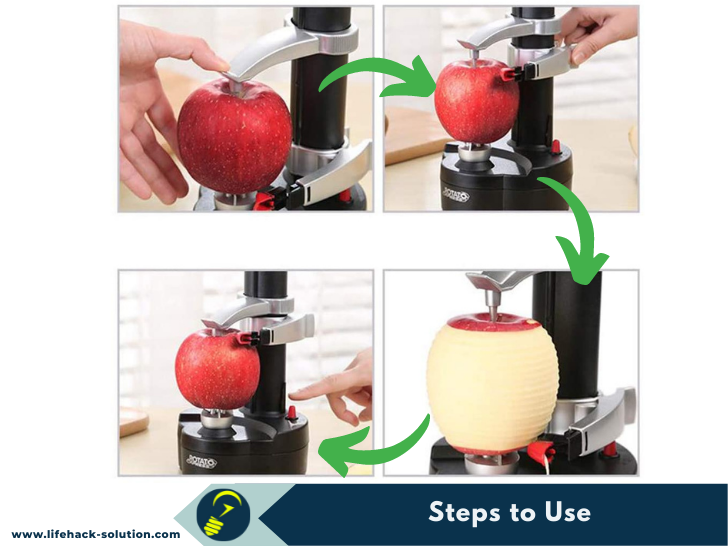 In order to use it, simply do the following:
Step 1: Take the food, place it in the center on the bottom of the food holder.
Step 2: Press it gently it when placing the food.
Step 3: To ensure the food is hold securely, the upper food holder must be lowered for the perfect fit customization.
Step 4: You need to use the height adjustment level to raise the cutter arm. This is to ensure it is on top the food to be peeled.
Step 5: After securing the right positions, you can now PRESS the red button to turn ON!
Step 6: Let the machine does the work, while you enjoy the show.
Step 7: The gadget will stop automatically once it reached the bottom.
Step 8: To remove the ready peeled fruit, lift up the upper food holder and remove it from the bottom food holder.
Step 9: The peeled food is now ready without hurting anyone!
Here, you can also view the usage of this gadget from the video below.
---
Gadget Lab
Based on our personal experience, we have tested this Automatic Fruit Peeler.
We had tried these on potatoes and apples. Now the potatoes and apples will not turn brown as using the machine had saved us so much time. It takes only a few minutes for bag of apples.
The cleanup part was also very quick and easy. The blade itself is easily removed and then can be washed that way.
However, it does leave a little skin on the top and bottom, but not very obvious or major to complain about. When we do it the manual way, we also missed out those little minor parts.
While using this device, be sure not to leave it alone. Monitor the movement, just in case. Anyway, you only need to spare your few seconds of time.
Some helpful hints, before peeling, put a paper towel beneath the device to catch the residual peelings. As this is a machine, and not a human, we also need to understand it would work better if the food were firm and fresh. If the food had softened, this would not work. Choose the suitable size too.
Warning do not hold or grab the cutter blade. The razor is sharp!
The highlight of this invention is it saves us so MUCH TIME and it is SAFE to use. It is not a hassle anymore in preparing fruits to serve during rush hour.
It is also a good idea for gifts to friends. This is a cool gift, many people didn't know it exists.
So, what are you waiting for? Buy now here!
---
Buy Here at Lowest Price!