Living a life as a girl has never been easy. Things tend to be really complicated and troublesome 99% of the time. Therefore, here are some top life hacks for girl that will definitely help you out from the difficult life of yours.
9 Life Hacks That Every Girl Should Know:
1. Easily Straighten Your Tangled Hair
As a girl, we love styling our hair in many different ways. We love braiding, curling and do crazy things with our hair that result in making our hair tangled. So, here's a quick and easy trick to solve this problem. 
Things you need: 
a basket filled with a good amount of water

hair conditioner
These are the only two things you need. 
Moving on to the steps, all you have to do is to put a reasonable amount of hair conditioner into the basket and mix. Then, quickly dip and soak your hair in that solution.
You'll realise how fast it is going to smoothen your tangled hair. This trick is very effective because the hair conditioner contains ingredients that could immediately make your hair really smooth and silky.
2. Preventing Your Foundation From Smudging Everywhere
Applying and wearing makeup is part of women's everyday routine that can never be changed. However, there are several inconveniences that seem to happen frequently. 
You will start to notice that the foundation that you use as the base of your makeup smudges. What's worse is that it sticks easily to the screen of your phone when you are making a call.
How to solve this problem?
To resolve this problem, you need to make sure that you have set your makeup once you're done with applying them. You can start by applying a slight amount of powder and layer it on top of your foundation. 
To finish and completely set your makeup, use a setting spray. Remember to apply it from a distance to ensure that you'll get an overall coverage. 
That's all about it and you'll no longer have to deal with these type problems on your daily basis. 
3. Completely Remove and Easily Clean Your Face From Makeup
Regarding this matter, there are actually a lot of different ways that you can use to take your makeup off from your face. Most people usually clean their face by using cosmetic oil and a daily cleanser. However, that is still not enough to completely clean your face. 
In fact, there is no need for you to purchase an expensive cosmetic oil. All you need is simply an olive oil that you could easily find in your kitchen. Not just that it is cheap, but, it will perfectly do the job for you.
Why do we use olive oil?
The reason it is better for you to use olive oil is because it contains vitamins A, D, E, and K that is good for your skin. Furthermore, these vitamins will penetrate deeply to your skin and cleanse it.
Try using olive oil and you'll no longer feel the need to buy. Girl life hacks!
4. Remove The Sweat Stains You Got on Your Shirt
We all know how annoying and unpleasant it is to have sweat stains on your shirt. It is going to be really bad if you get it stained on your white shirt since it is going to be really noticeable to the eye. 
Things you need:
These are the two main things you need to get rid of the sweat stains.
How to get rid of it?
Firstly, you need to scatter some baking soda on the area of the sweat stains. Then, spray some vinegar. These are the two main steps.
After you're done, just simply wash your clothes and you'll realise how easy those sweat stains came off of your shirt.
With this, you'll no longer have to worry about getting sweat stains on your shirt.
Read Also: Simple and Practical Ways to Remove Stains From Clothes
5. For Those of You Who Are Having Dry Skin
If you are staying in a room with AC for a very long period of time, you'll tend to have dry skin. Having dry skin is really uncomfortable and distracting as it might be really itchy at all times. 
Once you can't stop yourself from scratching it, you will start to have a lot of rashes all over your body. And we know that you wouldn't want your skin to appear that way. Let's proceed on how to overcome this problem. 
The things you need to prepare:
Brown sugar

Coffee powder

Coconut oil

Plastic wrap 
You can start by mixing all the ingredients together and turn it into like a scrub. After it is completely mixed, take a good amount and apply it on the dry areas on your skin.
Remember to leave it on for 10 minutes and before that, make sure that you use a plastic wrap to seal it. When it's time, wash it and your skin will be really smooth and shiny. 
You'll be surprised at how incredible this trick is going to work for your dry skin.
6. A Simple Way to Whiten Your Teeth
Having yellow teeth tends to make you lose your confidence. This will make you feel uncomfortable especially when you are talking to other people, or maybe when you want to take a selfie of yourself. 
Indeed, this is a serious problem that should be discussed.
How do you overcome this problem?
Let's just go straight to the point. To get control of this problem, you only need two ingredients which are baking soda and coconut oil. 
Simply mix baking soda and coconut oil together. Next, get a toothbrush as an object of application. All you need to do is to brush your teeth using the mixture that you made earlier
That's it and your teeth will shine as bright as a diamond. Alternatively, don't be afraid to opt for professional whitening to get a healthy smile with dentist in CA.
Read Also: 20 Ways to Whiten Teeth Naturally
7. Getting Rid of Dark Armpits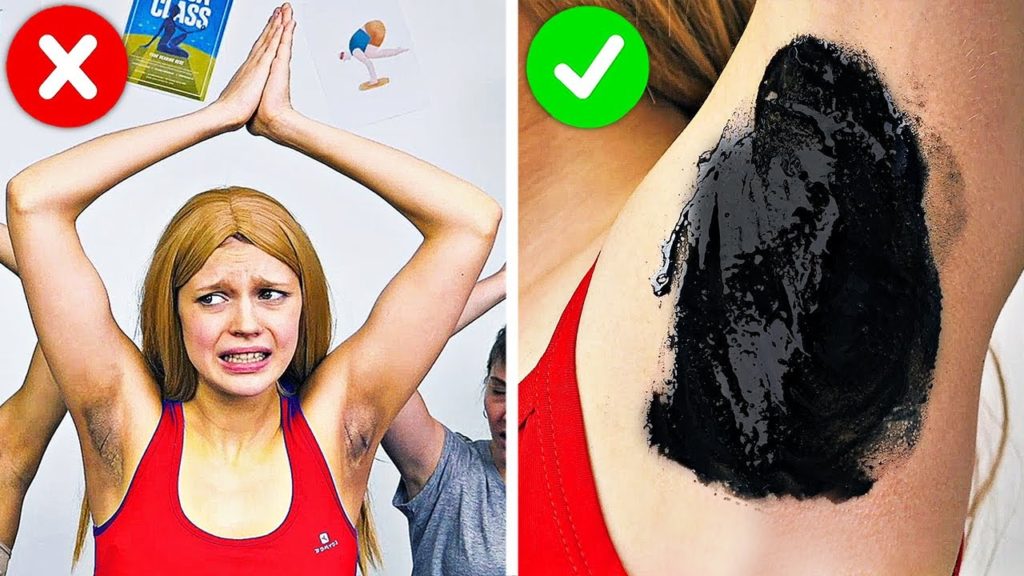 Girls love wearing various types of clothes. One of their favorites is wearing a tank top or any other sleeveless piece of clothing. 
However, there's this one problem that is stopping them from wearing those sleeveless clothing. And the problem is none other than having dark armpits.
This could really impact their confidence in wearing different types of clothes. Therefore, we should get this problem under control.
What can we do regarding this problem?
To tell you frankly, it is very simple to get rid of this problem. Prepare yourself an absorbent carbon and honey.
Once you have prepared the two ingredients, we are ready to start. Firstly, mix those two ingredients together. Then, apply it gently to your armpit and keep it mind to leave it on for 20 minutes.
After 20 minutes has passed, you can proceed to get rid of it by wiping it off gently with a wet towel. Voila!
Just in 20 minutes, you can immediately notice a huge difference. Now, you could wear whatever you want without having to worry about your dark armpits.
8. Accidentally Forgot to Carry a Deodorant With You
Girls always pay a lot of attention to their appearance especially when it comes to their smell. They absolutely hate it if they stink and will never be able to tolerate that. This is why they always carry a deodorant with them.
Even so, there are some days in which they forgot to bring a deodorant with them. For example  when they head out of the house in a hurry  to work, gym, and etc. 
What can you do if this happened?
When these happen, just relax as there are still many other alternatives that you can use as a deodorant. When you are at the gym, you can simply use a soap bar as your alternative.
On different occasions, you can also use a hand sanitizer too. You can just immediately apply it on your armpits.
Those are the two alternatives that you can easily find. With this, it will no longer be a problem if you accidentally forgot to carry a deodorant with you. 
9. A Life-Saver If You Have a Colored Hair
After you colored your hair, it is very important for you to maintain its color. You wouldn't want the color of your hair to fade within a week. 
You must be aware that you should not be using a regular shampoo as it is going to really fade the color of your hair. 
So what should we use?
Instead of buying and using expensive hair care products, use egg whites. Add egg whites to a basket of water and soak your hair in it.
Research has been proven that it is best to use egg whites compared to shampoo or other color-treated hair products. The reason behind this is because egg whites contain protein that helps in maintaining the color of your hair and strengthen your dyed hair.
This is a must-try girl life hacks that could really help you in taking care of your hair.
Conclusion
These are some simple and easy life hacks for girl that could help you on your daily basis. We hope that these hacks could be really helpful for everyone.