Billionaires don't always come from moneyed background. In fact, there are plenty of billionaires who started from nothing.
If you're one of million people that still making excuse to not be successful due to capital, check out below successful stories that these billionaires started with nothing!
---
1. Larry Ellison, Founder of Oracle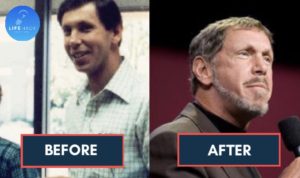 Oracle is a global leader of software and IT company that sells database management system. In 2019, Larry Ellison has a net worth of $68.4 billion which makes him the seventh richest person in the world.
Starting Capital at $1200 from Own Pocket
Ellison was born from a single mother in 1944 with a pneumonia condition. His mom then sent him to live with his uncle and aunt. Ellison dropped out two times during his college time.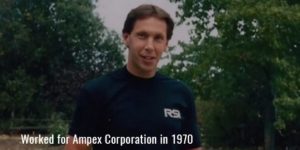 At 22 years old, Ellison bounced from job to job while he was learning computer and programming skills for eight years. In 1977, Ellison started his new company together with his partners Bob Miner. The company started with $2000 capital whereas $1200 of which came from Ellison's own pocket.
The Struggle
The journey of Oracle's success was not as smooth as what seen from outside. In 1990, Ellison was described as "Incredible business mistake." They laid off 10% off their employee due to lawsuits and regulators.
Oracle was said to be closed to bankruptcy. Meanwhile, it competitors such as Sybase were taking over at Oracle's market share.
Never Stop Growing
Ellison always put "Never Stop Growing" in his mind. After bringing Oracle to the world's biggest provider of database software, his next step was to dominate the business software industry.
"No matter how big you are, you will only survive through re inventing yourself."(Larry Ellison)
The Fire of Competitive Spirit
After his current achievements as billionaire, Ellison still came to work everyday. If you ask him why, he'll tell you the same answer every time: "I loves to compete".
"I'm addicted to winning. The more you win, the more you want to win." (Larry Ellison)
---
2. Jack Ma, Founder of Alibaba Group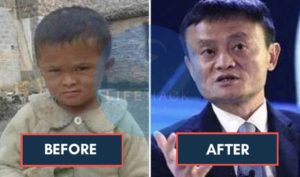 Alibaba group is the largest e-commerce company in China which worth $480 Million. According to the Forbes, Jack Ma, the founder of Alibaba group is the second richest man in China.
Started in a Small Apartment
In 1964, Jack Ma was born in a middle class family. He was born with a tiny physique body which made him got underestimated most of the time. He was not good during his study which made him almost failed at the university. Even until now, he claimed that math is still being a nightmare for him.
Jack Ma actually tried to apply for 30 different jobs and got rejected by all. In 1992, he started his first translator agency company, Haibo.
He heard about internet and realised the great potential from it. He then established Alibaba in his small apartment in Hangzhou.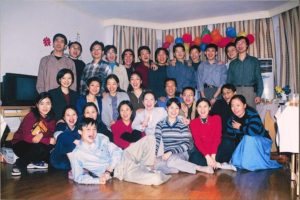 The Struggle – Billionaires Who Started With Nothing
It wasn't easy at all! Jack Ma was struggling to introduce internet to China when that time nobody knew about it and most of the people doubted his idea.
After established, one of the biggest challenge for Alibaba was when Giant E-commerce Ebay were trying to enter China. With strong persistency and well planned strategy, Alibaba managed to beat Ebay from entering China.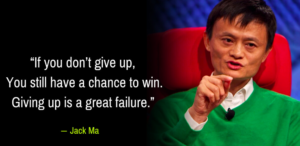 Never Give Up
Everyone can start any company or business. But what made the business survived and succeed is the power of consistency and never give up.
---
3. Itthipat, Founder of Tao Kae Noi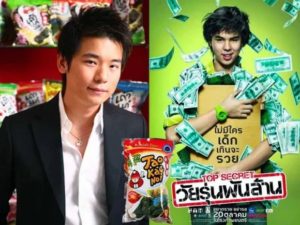 Do you know about the world's famous seaweed snack "Tao Kae Noi"?
In 2018, Forbes estimated Itthipat, the founder of Tao Kae Noi wealth at $600 million. His inspirational story was made into a movie named "The Billionaire" – You can find the list of similar entrepreneur movies here.
Started with Small Kiosk
A 16 years old Itthipat was addicted to online games which made him got underestimated by the teachers at school. He then decided to drop out from the school and start selling chestnut.
Operating his small chestnut kiosk, he struggled with initial sales. He eventually had to close down shop and started again on his newly seaweed business. With a strong determination and spirit, his snack soon became popular all over the world.
The Struggle
Apart of the initial struggle above, in 2011, Itthipat faced a setback where a flood devastated his factory. In just three months, he managed to overcome this and bring back the factory.
Itthipat or his nickname "Tob" is the youngest person to be on the Forbes "Thailand's 50 Richest People" list.
Dedication, Effort, Never Give Up
His story shows us that with a strong dedication and consistent effort would never betray the result. These are the critical factors that helps one become success in the business world.
"Do not loose your courage no matter what. If we give up, the game is over." (Tob Itthipat)
---
4. Ingvar Kamprad, Founder of Ikea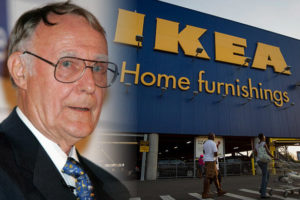 Raised in a Small Farm
Ingvar Kamprad began with two empty hands to become one of the world's richest man. Kamprad born on 1926, in a small farm somewhere in Swedish.
He began his journey at the age of six, selling matches such as decorations, fishes, and pencils to his neighbourhood with his bicycle.
At age of 17, he started his company named IKEA by initially selling picture frames, nylon stocking and etc over the phone. As the business started to grow, he began to distribute catalogs. He initially began selling inexpensive furniture and merchandise which proved to be popular in 1951.
Took Loan at The Initial Stage
At the initial stage, he took loans to start a store selling furniture.
The IKEA's affordable and low price, angered competitors which made them pressure the Swedish's suppliers to ban IKEA as their partner.
Without giving up, Kamprad responded it by designing it own merchandise and contracting with the foreign business supplier. Today, there are tons of IKEA stores worldwide.
Focus on Solution, Not on Problems!
When we're faced by difficult situation, we tend to focus on the problem itself by blaming the situation and fate.
Be matured enough and believe in yourself. Your future is depends on what you do.
"Creativity and believing at your work is absolutely a necessary part of success." (Ingvar Kamprad)
---
5. Ralph Lauren, Founder of Polo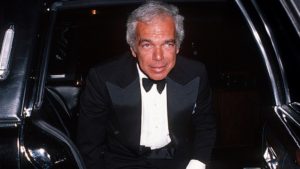 Ralph Lauren was once a clerk at Brook Brothers dreaming of men's ties. Now, his net worth is $7.8 Billion!
Came from Poor Family
Lauren graduated high school and dropped out of college to join the army. Growing up in the poor family, he was trying to escape from poverty.
Then, he worked at Brooks Brothers as a clerk that Lauren questioned whether men were ready for wider and brighter designs in ties.
He then decided to change his dream into reality and started his Polo after 1 year working.
A Dream Without Action is Just a Wish
Most of people like to dream about their desired life or future where they can enjoy life with financial freedom.
I've met a lot of people like that and the funny thing is, I didn't see they doing any effort to reach their dream!
"It's all possible and I am the living proof." (Ralph Lauren)
---
6. John Paul DeJoria, Founder of Tequilla Patron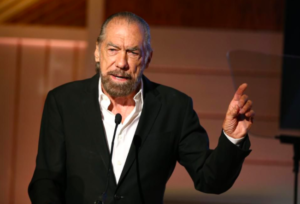 John Paul Dejoria is the co-founder of the well known hair care empire and tequila patron with worth $3.2 billion of wealth.
From a Homeless to Billionaire
Dejoria was homeless and living out of his car back then. He was doing door to door shampoo and encyclopaedia salesman in 1980. After collecting capital, he turned $700 into John Paul Mitchell systems, one of the most profitable hair care companies in the world!
"Success is how well you do what you do when nobody else is looking." (John Paul Dejoria)
---
7. Shahid Khan, Owner of Flex-N-Gate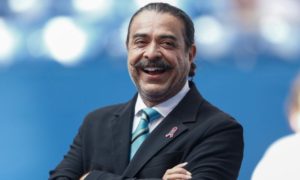 Khan is a billionaire from Pakistan who owns the Flex-N-Gate which ranked as 7th Largest Automotive Company.
16 Years Old Khan Arrived in The US with just $500
Shahid Khan is one of the amazing life proofs that turning adversity into opportunity. He was born in a middle class family that involved in construction industry. At 16 years old, he moved to US with just $500 on his hands.
His first job was as a dish washer with $1.20 per hour rate while studying in industrial engineering. After his first job, Khan worked in a company named Flex-N-Gate. With a good talent and dedication, Khan was hired as an engineer director after he graduated from the university.
In 1980, he bought Flex-N-Gate company from his former employer. Flex-N-Gate grew under his direction stage by stage.
After became a billionaire, Shahid bought Jacksonville Jaguars, a national football league team in 2011. Shahid Khan is one of billionaires that started from scratch.
"My experience tells me the hard road is almost always the right road." (Shahid Khan)
---
8. Howard Schultz, Chairman and CEO of Starbucks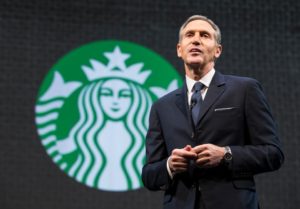 Today, Starbucks is the largest coffee company in the world. But who is the people behind Starbucks success? He is Howard Schultz, Chairman and CEO of Starbuck who succeeded in making his dream of forming a simple coffee shop and bringing it to worldwide fame.
Raised in Poverty
Howard Schultz was born in Brooklyn, New York in 1953. Schultz was raised by his poor parents who worked as labours. His family lived in poverty, even his father could not go to the doctor for treatment when his ankle was broken.
At that time, his father who worked as a delivery service driver must be willing to lose his job. That made the family's economic situation even worse.
Started from Nothing to be one of the Billionaires
During school, Schultz excelled in sports subjects and managed to get a scholarship to Northern Michigan University in 1971, where he managed to get a degree in Communication Studies.
After graduating from college, Schultz worked as a salesman at Xerox Corporation. In 1979, he worked in manufacturing company's management, a Swedish coffee producer named Hammarplast.
At Hammerplast, Schultz realized that there was a coffee shop in Seattle that always bought espresso coffee machines from his office called Starbuck. Starbuck was founded in 1971, selling warm drinks such as coffee, tea, herbs, and coffee accessories.
When Schultz met with the founder of Starbuck he was captivated by his passion for making delicious coffee. Schultz remembers the first time he came to Starbuck and said:
"When I walked into the Starbuck for the first time – I knew that this business would be very shinny." (Howard Schultz)
A year later, Schultz was recruited as a retail operations and marketing manager. In 1983, on his way to shop for coffee in Milam, Schultz was enlightened at one of the coffee shops he visited there. He wanted Starbuck to become a coffee bar and be a place for people or communities to gather and socialize.
Schultz conveyed the idea to the owner of Starbuck, but the owner did not feel enthusiastic about the idea from him. But with a lengthy explanation, finally Schultz's idea was accepted and they made a coffee bar in Seattle.
The Struggle
At that time, Coffee was not popular in America, but Schultz kept trying. He began to vary the menu, offering various kinds of brewing coffee ranging from espresso, cappuccino, café latte, iced coffee to mocha.
He worked hard to create a comfortable atmosphere for all the visitors to meet with family or friends and enjoy the coffee together. Like Starbuck, Schultz also continues to grow. Schultz insisted on treating his employees with respect, and receiving the appropriate benefits.
That is because he remembers his childhood which always lacked, did not have insurance. He doesn't want any of his employees to suffer the same fate as he did before.
When the Giant coffee shop began to fall in 2008, Schultz returned to lead Starbuck. Then in 2008, Schultz temporarily closed its 7,000 stores for several hours in February 2008 to improve the basic coffee processing capabilities of all its employees. Companies need to change the way they function to the way they steam milk.
This change may not be realized by customers, but Schultz always emphasizes his employees to always provide the best service for their employees. Schultz never stop.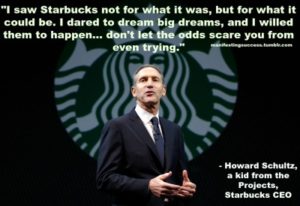 Today, Starbucks is the largest coffee shop in the world with 20,891 units in 62 countries, making him one of the inspirational billionaires who started from zero.
In addition to his success, Howard Schultz always tries to continue to be humble as possible, to serve all his employees with respect and to maintain the company culture.
---
9. Jan Koum, Founder & CEO of WhatsApp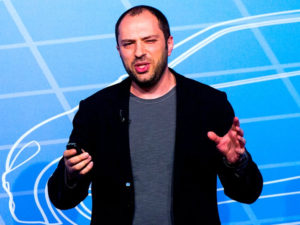 The WhatsApp application is one of the most popular instant message delivery applications worldwide. Who knows that the man behind this billionaire company started from a poor family?
Jan Koum, One of the Billionaires who Started with Nothing
He was born and raised from a poor family in Ukraine. At 16 years old, he was desperate to move to the US to pursue what we know as the "American Dream".
Koum was a homeless where he slept in the sky and lay on the ground. To survive, he works as a sweeper. His life became more difficult after his mother had cancer.
Koum then continued his studies at San Jose University, but he chose to stop studying because he preferred to learn programming on his own.
Because of his expertise as a programmer, Jan Koum was accepted to work as an engineer at Yahoo.
The Struggle
After worked at Yahoo for ten years, Koum and Brian Acton made the WhatsApp application in 2009. They once begged Facebook for partnership. However, they were rejected back then by Facebook.
In 2014, WhatsApp was officially bought by Facebook at a price of USD 19 Million.
" I want to do one thing, and do it well." (Jan Koum)
---
10. J.K. Rowling, Creator of Harry Potter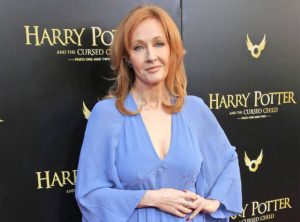 The creator of world's famous series Harry Potter, J.K. Rowling was once started with no money before she became one of the successful billionaires.
A Single Mom with No Money
In 1993, J.K. Rowling was struggling as a single parent to raise her daughter in poverty.
"I remember 20 years ago not eating so my daughter would eat," she said. "I remember nights when there was literally no money."
She was working as a typist at Edinburgh church. After she resigned, she started to write a novel named Harry Potter, a books that turned her into world's highest paid author and one of the billionaires.
The Struggle
The decision to leave her job was very risky and stressful at that time as she has no income and has one daughter to raise. However, she has a strong dedication and know that she will be a successful author one day.
After 6 months of writing of Harry Potter, her mother passed away. The death of her mom caused her a dilemma and sadness for a moment.
J.K Rowling claimed that she experienced a depression due to fail of marriage and can't earned enough income to raise her daughter. Once she was almost thinking of suicide.
However, seeing her little daughter as a strong motivation, Rowling came back from her depression and concentrate fully on her writing.
Rejected by Bunch of Publishers
Her journey wasn't smooth at all. Her script was rejected many times by a lot of publishers.
At this point, she could just quit and gave up. But she didn't! She knew that if she quit now, all her struggle and tears will be nothing. She kept sending her script to other publisher until it finally published by Bloomsburry.
Rowling was advised to not expect much from the book selling, and suggested to find other source of income.
But in fact, Harry Potter continues to be produced and published in England, even becoming a bestseller of all time. Her book was sold as fast as lightning spread throughout the world. Rowling apparently did not have to look for another job as suggested by her editor.
---
What We Can Learn From Them?
There are similarities that made all these billionaires able to started with nothing to become what they are today. Notice what are them? Take a look on below:
1. Never Give Up
What made them successful until now is the strong dedication and never give up.
Sometimes, you must hurt in order to know, fall in order to grow, lose in order to gain. Because most of life's greatest lessons are learned through pain.
If everything was perfect, you would never learn and grow. Remember: slow success builds character, while fast success builds ego.
2. Action
If you're not willing to work for it, don't complain of not having it. Each time you learnt something new, or have a brilliant idea, start doing it!
Never wait for things to happen, make them happen for yourself through hard graft and not giving up. Life won't stop for your pauses, procrastination, and fear. It will continue on without you.
"Well done is always better than well said."
3. Believe in Yourself, Don't Even Listen to What Others Say
All the billionaires that listed above had experienced the feeling of being underestimated and doubted when they just started.
No matter what you do, other people always got to say something about you. Piece of advice, don't ever listen to others say because it just don't matter.
What matter is, your action, good strategy, and strong dedication through your goals. Nobody cares about your story until you win, so win!
"Thank you for doubting me. It made me work even harder."
4. Correct Mindset and Attitude
Ego prevents you from learning from others.
Envy prevents you from focusing on yourself.
Anger prevents you from seeing clearly.
Ignorance prevents you from making good decisions.
Fear prevents you from seizing opportunities.
So, get rid of them all!
5. Focus and Consistency
6 months of hardcore focus and alignment can put you 5 years ahead in life. Never underestimate the power of consistency and desire.
You have what it takes to become the best you can be. Don't ever doubt yourself. Harness your power. Exceed your expectations.
6. Eliminating Excuses
I've seen people workout at 4 A.M. before working two jobs. I knew introverts who became great communicators when an important relationship needed it. I've seen people who weren't "ready" suddenly commit to the right person.
The point here is, people give effort to what's important to them. So, stop making excuses and start right now!
7. Dream Bigger
Within you right now is the power to do things you never dreamed possible. This power becomes available to you just as soon as you can change your beliefs.
Once you changed your way of thinking, I guarantee that you'll change your life!
Bottom Line
There are bunch more billionaires who started with nothing that are not inside this list. The point is, these proofs teach us that it's all possible if we have a strong determination and goals.
If they can start from scratch, why can't you? Stop blaming about your family's wealth origins.
Always keep in your mind: if you're not born from rich family, be the first billionaire in your family!
"A person with clear goal and consistency can achieve many things."
So, are you ready to start your journey?