From hiding your cash money inside the empty lip balm container to secret bra wallet, here are 8 clever ways to hide your cash while traveling!
Everyone loves to travel as it is very exciting and fun. Travelling refreshes both your body and mind. However, there are a lot of things that you need to pay attention to before and while you're travelling.
Why You Need to Hide Your Cash While Traveling?
In fact, dangerous and bad things could happen anywhere at any time. No one could predict those unwanted accidents. This is why you need to always be alert and extremely cautious of your surroundings. You need to be smart in taking care of your valuable belongings.
Another thing that you should know when you're travelling is that you should always have some emergency cash and know where to hide it.
Imagine if you are suddenly being robbed in that foreign place. What would happen if you did not have some cash with you? You might end up experiencing those horrible and awful things that you have never imagined before.
Check out our article related to safety tips when travelling alone here.
8 Clever Ways to Hide Cash While Traveling
This is why being both anticipated and prepared is extremely important, this is something that you can't ignore when you are travelling abroad.
Keep in mind that you should be extra careful when it comes to your safety and money. So, here are some tips for you on where to hide your cash money while you are traveling abroad.
1. Hide Your Money at The Back of Your Phone Case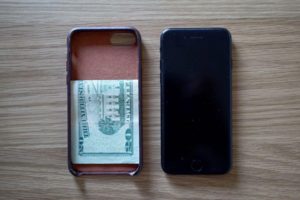 This is one of the most famous yet classic tricks to hide your cash wherever and whenever you go. The reason behind this is because it is very accessible as we always carry our phone around.
Meaning, you can immediately take your cash from the back of your phone out whenever you need it.
It is advisable for you to not use a clear or transparent phone case. Use a case that is dark-colour, so that it will not be noticeable that you carry cash on the back of your phone case.
This works best for those of you who don't like to carry your heavy wallet or are afraid of being robbed. Try this and you'll find this simple trick useful.
2. Use Money Belts When Travelling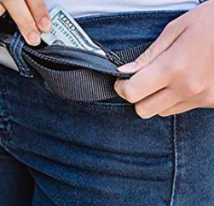 Keeping your cash money safe when you are travelling is critical. It is understandable that not everyone loves wearing these money belts. It is undeniable, that this is actually one of the best ways to hide your cash money while traveling.
Money belts are technically belts that have a concealed pouch where you can use to store and place your money. By using this, you can easily obtain and reach your money.
The concept here is that as long as you keep your money hidden from the sights of pickpockets, you are safe. If you wish to increase your cautious level from pickpockets, check out about pickpockets secret here.
Moreover, having some cash on your body will give you a peace of mind too. This is because you know that your money is not going anywhere as you are fully aware of it. Therefore, you can enjoy your trip without having to worry about you losing your money.
3. Use an Underwear That Has a Pocket on it
When you are shopping, you may notice that there are some underwear that have little pockets attached to them. Actually, that little pocket is called a gusset. Many of us may think that little pocket is for us to store tiny things.
In fact, the function of it is to protect the human's intimate area as it provides a soft and comfortable lining. A gusset protects against friction from synthetic materials that do not protect against rubbing, bacteria and sweat.
In this scenario, you can actually make use of this special little pocket by putting/storing some money inside it. With this, your money is well protected from any kind of danger. The question here is how are they going to take your money away from you.
Know that the most important thing here is that those pickpockets do not even know that you had hid some money in that special tiny pocket of your underwear. Remember to use this simple brilliant tip to hide cash when you are travelling abroad.
4. Use Your Empty Container of Lip Balm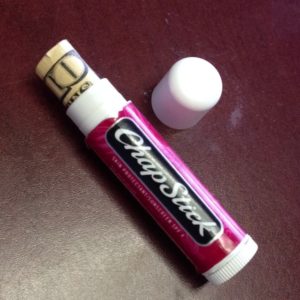 Once you have used up your lip balm, get a piece of wet tissue to clean it up. You can reuse the empty container of your lip balm by storing some cash inside it.
All you need to do is just roll your cash so that it could fit inside the narrow container. This is another simple and easy way to hide your cash when you are travelling.
5. Try to Use a Secret Bra Wallet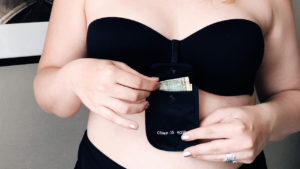 Actually, this has a similar concept to the pocket underwear. This secret wallet is designed to keep your belongings safe from pickpockets when you are travelling abroad.
You can use this secret tiny wallet by attaching it to your bra strap, bra band, belt loop, underwear or just simply wear it underneath your clothes.
In addition, this product actually has anti-theft RFID protection and is made up of materials that are waterproof. Read more about what is RFID protection here.
When travelling, use this product to store your extra cash, credit cards, hotel keys, or other small essentials you need. This is one of the best alternatives for you if you are too lazy to bring your purse out.
Use this to only carry the things you need at that moment and you are good to go. To top everything off, this product is very convenient to use and is essential for every traveler.
6. Place and Hide Your Cash Inside Your Shoes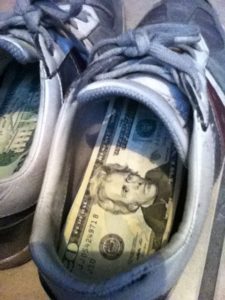 This is actually an old trick that has been used by a lot of travelers. The only thing that you have to do is just stash some cash inside your shoes and that's it.
However, there are some consequences and downsides that you have to know. There is a possibility that you might accidentally rip your money when you are on the move.
Additionally, your money will eventually absorb the stinky smell of your feet. Just imagine how bad and horrible it's going to smell. This might not be the best tip but this tip is golden.
7. Wrist Wallet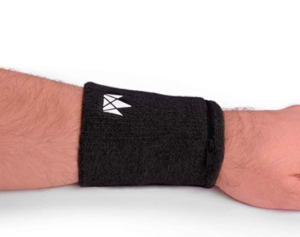 Wrist wallet is another holy grail product that will save your life when you are travelling abroad. You use this wrist wallet as if you are wearing a band.
Storing your cash somewhere on your body is the best way to keep you money safe from those pickpockets. And the most important thing is that it is made of materials that will make you feel comfortable whenever you put it on.
Another great thing about this product is that no one will ever notice that you actually store your valuable belongings on your wrist. This is such an incredible invention after all. Not just when you are travelling abroad, but you can use this when you decide to go for a run.
This will stop you from losing your things. Also, it will keep your hands free from carrying your belongings. With this, you are able to move freely without having to worry about anything.
Surprisingly, this product could actually fit all your daily carry-on stuff. This could fit your phone, money, cards, house keys and other necessities. Moreover, this product is actually available in different sizes.
Therefore, it is advisable for you to pick the perfect size so that it will be more comfortable when you are using it. Many of the travelers had highly recommended this product for its effectiveness and functionality.
8. Try to Carry an Anti-Theft Bag
According to its name, an anti-theft bag is a backpack, luggage, or a purse that is packed with a bunch of safety features. Technically, it is designed to stop or prevent you from being a victim of theft when you are travelling abroad.
They are normally called either as theft proof bags or slash proof bags. It cannot be denied that this is one of the most popular items among travellers as this item is prone to pickpocketing.
It is very much necessary to use these kinds of bags when you travel to places that are really crowded. The tourist areas in Europe is one of the examples of the places that are filled with pickpockets.
They all might have different details and features. If it is a purse, it has a lot of secret pockets. Moreover, the straps attached to it might be metal mesh lined as they want to prevent slashing. They also have RFID pockets that could prevent the scanning of both your passport and credit cards.
Conclusion
Safety will forever be the number one concern when you are travelling abroad. Therefore, having an extra security of your valuables should also be a priority.
These are all the tips that you can use to keep your money safe and hidden from the sight of the pickpockets. Choose the method that you find most effective and works best for you.
Different people may have different preferences but here are so far the best tips that you will never regret knowing. Let us know in the comment section which ways is your favorite to hide your cash while traveling!