We all know the struggle of choosing the right clothes, especially for fat women. Some women lose their confidence and so confused to find what kind of clothing or colour models because of their fat body size. On this post, we're going to list down some tips & tricks on how to dress when you are fat.
All hopes to be fashionable and attractive appearance seems to be only wishful thinking and difficult to realise.
For those of you who have problems like this, don't be sad and panic. There are clothes that are suitable for fat women so that your appearance will still looks attractive.
To find clothes that fit, you need tips and tricks. In this way, you can get special clothes for fat people who fit the personality.
You also no longer need to feel inferior because beauty and attractive appearance do not only belong to those who have a proportional body. You who are obese can also look beautiful and attractive with your own version.
How to Dress When You Are Fat
The following tips can be applied and are very helpful in getting the perfect appearance. First and foremost, you must feel comfortable and remain what you are. Here are some dress tips for fat body that can be tried are as follows:
1. Vertical Stripes Pattern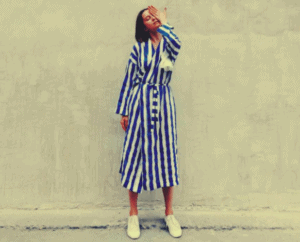 If you like the stripes or lines on the clothes worn, avoid using horizontal patterns. This pattern will give the impression that your body is getting fatter and fatter. Instead, use a vertical pattern that will make your body look slimmer.
2. Color selection
If you are fat, choose a dark color so that a fat body shape disguised. Wearing clothes with bright colors will just make your fat body look more obvious. Dark colors that can be selected are black, dark blue, brown and others.
3. Long Sleeves
With the right arm selection the fat appearance will actually be obscured. Choose arms that are loose enough so that your arms don't look their true shape. When you use a tight and tight arm, what happens is the impression of fat and big on your body.
4. Choose the Appropriate Long Dress Model
Some women who have a fat body tend to avoid wearing long dress because they think it will make their bodies look short.
Well, this is not entirely true because there are special tricks that can be done. One way is to choose a long dress that has no lace accents at the bottom.
Also try not to use rubber on the waist circumference because it will make you look fatter. Instead, use a ribbon to make it look sweeter at the waist.
5. Floral Patterns
If you like floral patterns, choose a pattern that is small and sweet. This will make you look slimmer and don't use large flower patterns because it will make you look fat and full. Also try to choose colors that are soft and not too flashy so that it accentuates your large body.
6. Tuck in Top Into the Skirt or Pants
One of the tips that can make your curves visible is by wearing a shirt that is inserted into a skirt or pants. Often a fat body with large, straight clothes will make you look like you don't have any curves.
7. Avoid "All Size" Clothing
Having a fat body naturally makes it difficult for you to find the right size. But avoid using the all size clothing. Choose clothes that really fit your body, not too narrow or too loose.
Clothes that are too loose will make your body look fatter, while narrow clothes make your big body look even more real. In addition, the narrowness of the clothes will of course also make the folds of fat clearly visible and unsightly to the eye.
8. Avoid Clothes with Many Accessories
Having clothes with ornaments to sweeten does look cute and adorable. But for people who are fat, dress with lots of accessories such as lace will make a full and fat appearance.
Therefore, avoid choosing clothes that have lots of decorative accents. Just choose a simple design but still sweet and elegant.
9. Wear Blazer
For those of you who have body parts on the arms, shoulders and large belly, you can wear a blazer to disguise it. The blazer will save the part and cover it up so you don't look so fat. The key is you have to be good at choosing the alloy so it looks stylish and amazing.
10. Choose Clothing with ¾ Arm length
Arm with length ¾ will make the arm look slimmer and longer. Try not to use too long or short sleeves that will increasingly give the impression of being fat for you.
11. Choosing Appropriate Bottom
The shape of the skirt of course will also affect your appearance. For obese women, just use an "A" line shape skirt and try not to use the type of pencil skirt that will make your body look big. "A" line skirt shape will cover the buttocks, thighs and large leg arms.
12. Use Contrast Colors or Patterns
If you think the dark color has saved your appearance, don't keep getting caught up in these thoughts.
Try thinking out of the box by mixing and matching contrasting colors but it looks beautiful and doesn't make the body so fat.
The key is you have to dare to experiment to get a style that fits and fits. This can be a solution when you are bored of using dark colors.
13. Using the Right Size Jeans
What you must note and underline when you want to wear jeans is to choose a dark color with the right size. Also choose jeans that don't cover the ankle so it doesn't look shorter.
14. Recognize Own Body Shape
Before choosing clothes that are appropriate, it helps you recognize your body shape first.
By knowing this, of course you will find it easier to determine which is suitable for use. If your hips are large, you can choose to use a dress that is combined with a belt.
Try to choose a dress with a dark color and combined with a brightly colored belt that will give the impression of contrast.
By recognizing your body, of course it will be easier to cover up the parts that are lacking and accentuate the advantages possessed. In this case you need trial and error to find the style that really fits.
Bottom Line
The most important thing for fat women actually is from the mindset. Appearance is not just a matter of body size, and physical beauty is not everything, but it all comes from feeling comfortable and confident when wearing it.
For those of you who still feel insecure because you are fat, try to find some references to women who are fat but still confident in dressing. This will help you find inspiration and believe that fat is not an obstacle to looking beautiful and attractive.
Read Also: 10 Tricks to Look Confident When You're Really Not