Being mad because of slow internet? Don't change or upgrade your WiFi yet before you try these 11 tricks to speed up WiFi connection!
Nowadays, wireless Fidelity or WiFi has become one of the main needs for most of the people. You can study or work anywhere and anytime, all you need is an internet connection with Wi-Fi.
However, sometimes the internet connection does not run smoothly, which also makes people upset. Check out our tips and tricks on how to speed up WiFi connections on laptops and computers or PCs.
1. Wi-Fi Router Placement
One important thing as a way to speed up a WiFi connection is to make sure your computer gets an optimal signal. WiFi location is one of the crucial things that determines.
Avoid Putting Router Behind Wall
Be sure to consider the following for a better Wi-Fi signal: Avoid putting the router in a wall or iron block. You can use a repeater, a tool that works to capture Wi-Fi signals and re-transmit them, as a way to speed up Wi-Fi connections.
In addition, concrete, cast or metal is a very strong material to block Wi-Fi waves, so avoid putting your router in a basement area surrounded by concrete. Regarding position, the farther you are from the Wi-Fi source, the weaker the signal will be. Try to get closer to the router if the signal starts to get weak.
Pay Attention on The Wi-Fi Router Height
Paying attention to the position of the Wi-Fi router height is one way that can be done to speed up a powerful internet connection and anti buffering. Usually, many people don't really care about the importance of putting a good spot on their Wi-Fi router.
Even if it doesn't fit just a little, there will be a huge difference. It turned out that the height of the place where the router is placed is quite important in connection speed. If you place the router behind scattered items, it can worsen the Wi-Fi signal.
Avoid Putting The Wi-Fi Router Near Other Device
Place it in an area with minimal Wi-Fi signal. Stay away from devices that use Bluetooth or microwave from both the router and the computer. The signal of these equipment will disrupt the performance of the Wi-Fi signal.
2. Change QoS Settings
For computer or laptop users with the Windows 8 operating system and above, Windows by default allocates 20% of the bandwidth for Windows update needs, and 80% of the available bandwidth for your internet.
So one way to speed up Wi-Fi connections that you can try is to set the full bandwidth for your internet.
The method as following: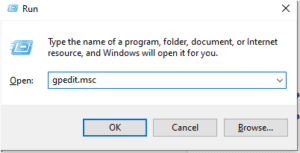 1: Search Run on the start section. Then, type "gpedit.msc" (without the quotes).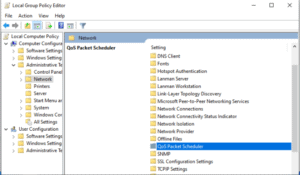 2: Click on Local Computer Policy – Computer Configuration – Administrative Templates
3: Click Network then QoS Packet Scheduler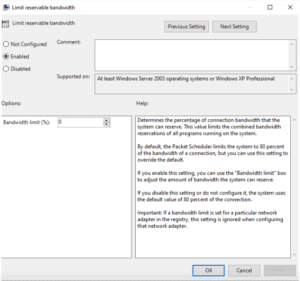 4: Double click (double click) on the Limit Reservable Bandwidth.
5: Click the Enable menu
6: After that, fill in the value 0 in the bandwidth limit and click apply
7: Restart the computer afterwards
3. Perform Network Reset & Flushing DNS
Flush DNS is used to reset the device cache that is being used to adjust information from changes that occur in a domain, name server, DNS with new data.
If you do, it will usually solve the problem of unstable internet connections.
How to reset the network and flush DNS:
Open Command Prompt by right-clicking, and selecting Run As Administrator.

Type ipconfig / flushdns then press Enter on the keyboard.

When finished, type ipconfig / renew then Enter.

Close the Command Prompt. 
Now try to access the internet and see if your browser load faster!
4. Choose Channels With The Lowest Usage
One of the problems that is often encountered related to slow Wi-Fi connections is the "channel selection" error.
Wi-Fi signal goes through the canals in the open space. If a channel has a variety of signals running, the signals will overlap and can interfere with each other.
In the end there will be data loss and signal must be rebroadcast, which will lead to a decrease in your internet speed.
5. Set IRP Stack Size Higher
Another way to improve Wi-Fi connections is to set IRP Stack size higher. If you increase this value, then you will be able to get a more optimal Internet speed.
By default, this IRP stack size value is 15, whereas this value can be added up to 50.

For that, you must change these settings, as step by step below:

Click Start> Run> type "regedit" (without the quotes) to open the Registry Editor.

Click on HKEY_LOCAL_MACHINE – SYSTEM – CurrentControlSet – Services – LanmanServer – Parameters.

In the Parameters folder, right-click on the DWORD file named "IRPStackSize", click Modify, and change the value to 50.

If the file is not found, create a new DWORD file by right-clicking, New, DWORD Value.

Create with the name "IRPStackSize" and the Value 50.

Click OK, and close the Registry Editor

Restart your computer
6. Use Software For Wi-Fi Analysis
You can use free Wi-Fi Analyzer software such as the free inSSIDer utility to see which channel has the most use. Once you know which channel you can use, you can adjust the channel in the router settings you use.
7. Check The Router Antenna Position
The position of the router antenna can determine the speed of the internet connection. For that, as much as possible make sure the router antenna is standing. This is because in this position, the router can be more effective in emitting internet signals to various devices that you use.
8. Reboot the Router Regularly
Reboot the router is an easy way to increase the speed of Wi-Fi at home. Don't just reboot the router when you feel the Wi-Fi connection is slow, it's better to set an automatic schedule so that the router can restart once a day or a week.
9. Check Internet Speed
When the Wi-Fi internet connection is slow, you should know what the problem is. One of them is checking your Wi-Fi internet speed. If your internet connection is hampered but you don't find any problems with router, chances are that the slow internet is from the internet service provider itself.
10. Check Wi-Fi Signal Strength
Besides internet speed, you also have to check how strong the signal emitted by your Wi-Fi router. To check, you can use special applications to check the strength of Wi-Fi signals, such as NetSpot, Wireshark, Amped, Cloudcheck, and others.
Make sure the Wi-Fi signal is in the range of -60 decibel-milliwatts (dBm) to more than -50 dBm or above. If it's below -70 dBm, the signal emitted is too weak and unable to provide a good internet connection.
11. Use a Quality Router
If you have done all of the above methods one by one but still failed, most likely the root of the problem lies with the router itself. Maybe your router is old enough or has been damaged until its performance decreases.
It could also be that you are using a low-end class device. For that, make sure your router has good quality. And, if not, spending a little money to buy a new router with better quality will greatly help you in ensuring the internet signal at home is always smooth and fast.
Bottom Line
In its use, the internet today is very much needed for daily needs. There are several ways to overcome your slow internet which are changing bandwidth settings, DNS settings, channel, and replace obsolete router.
Please note that, having entered the digital era, all equipment will automate into a system using only the internet network. You can do one of the ways above to make business productivity and your work is maintained.
Do let us know which method works the best for you and tell us in the comment section if you have your other way to improve Wi-Fi connection!