Owning a dog is a huge responsibility. It gives you the feeling of taking care of a kid that never grows up. It is tough to tackle your dog's mischief. However, with life hacks, we can manage some of the possible problems of your dog!
Some problems cannot be avoided, but we can reduce it with these life hacks. Check out below 33 life hacks are must-haves to ease your life with your dog:
1. The Magic Potty Training Spray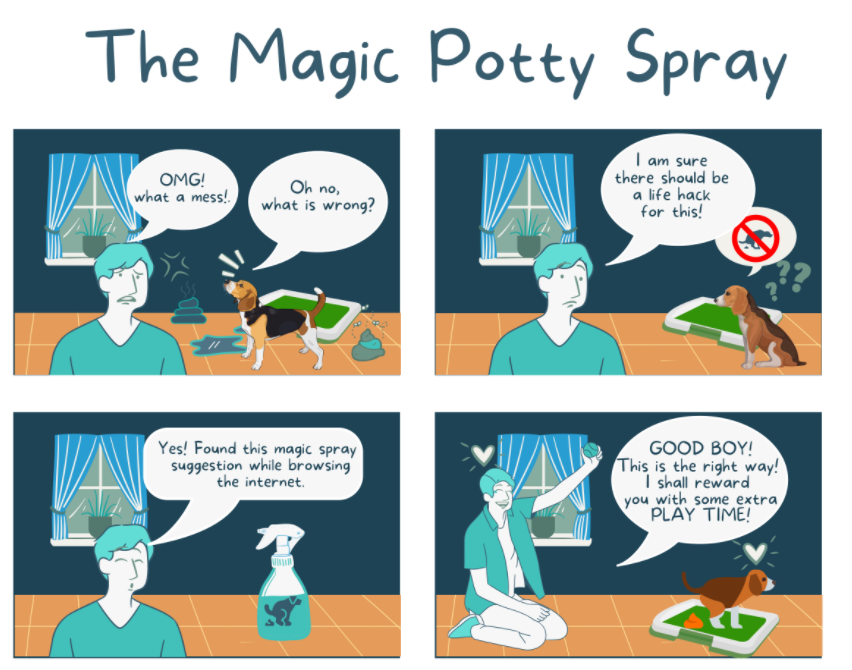 Before owning a dog on your own, do you know potty training for dogs had been made so much easier these days?
This potty-training spray has a unique scent which encourages your puppy or dog to urinate and poop at your preferred designated area. Isn't this too cool?
This is great for your dog's potty-training session. It can be used on your potty-training pads, fake grass or even done outdoor when you take your dog out.
2. Plastic Bottle and old Socks as a DIY Toy at home
Want to know a
DIY
dog toy? Simple and easy to get items, yes you heard it right! Just a plastic
drinking water
bottle and a sock, something every household could not miss.
Crunch the plastic bottle and just stuff it inside the sock. It can divert your dog's attention for a good 15 minutes at least. With the crunchy noise and your dog's curiosity, you can take a break for the moment.
This is one of the life hacks that is super easy and low in cost even if you do not have the dog toy at home.
3. Octagon Shape Fence Trick to Stabilize Dog Fencing Movement
Many of us would opt for getting an indoor dog playpen whether it is steel or plastic, it moves like crazy!
You would never come across a thought that this playpen keeps moving around your house once your pet is placed inside it.
The trick of shaping your dog playpen is shaping the playpen into an octagon shape. This shape enables the cage parts to not bend inwards when your hyperactive dog starts running and pushing the barrier all over and everywhere.
The science behind this shape enables stability due to the nature of octagon shape which prevents bending. With no bending inwards and outwards, your cage stays in tact on the ground without moving. Buy one here at the cheapest rate!
4. Prevent Dog Eating Too Fast and Causing Indigestion
They say a dog with good appetite is a good sign that your dog is well and happy. However, you also notice your dog eats super-fast! Too fast most of the time! Your dog eats too fast and may choke, this also worries you as it is not good for the
digestive system
.
Well, fear no more, with the slow bowl Feeder which comes in various fun colors and designs, this product hack is slow down your dog's eating time. With the shape of the bowl, it hinders big gulps.
The design is uniquely made to prevent huge swallowing amount. This helps to prevent bloating and indigestion which is a concern by many dog owners.
5. Life Hacks: The Ball in Dog Food Bowl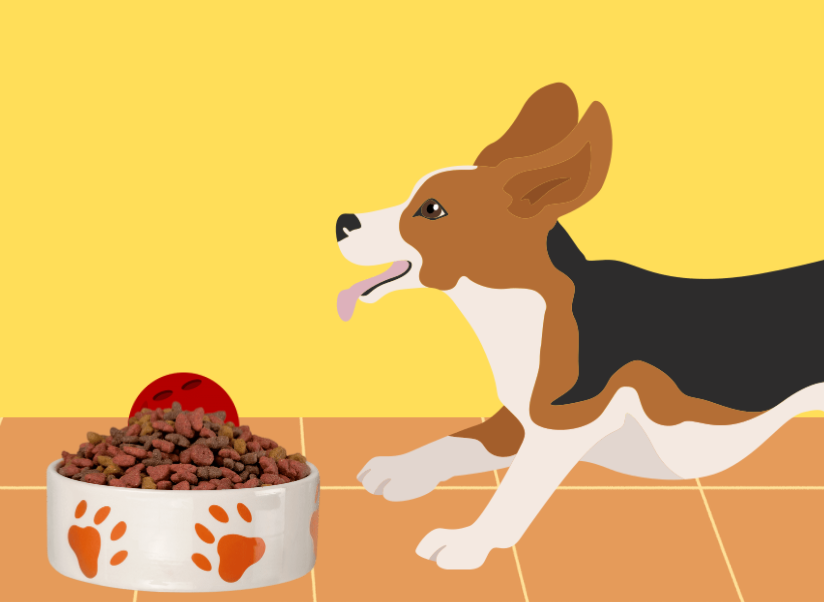 You may have already bought the typical dog bowl you see everywhere. Knowing the slow-bowl feeder was too late. If you urgently need to get your dog chomping down too fast, you can try placing a small ball inside the food bowl.
This is a simple yet easy hack to distract your dog while eating. As the ball moves around the bowl and obstruct the eating process, it helps slow down the eating procedure.
6. A DIY Homemade Dog Shampoo That Will Save Your Tight Budget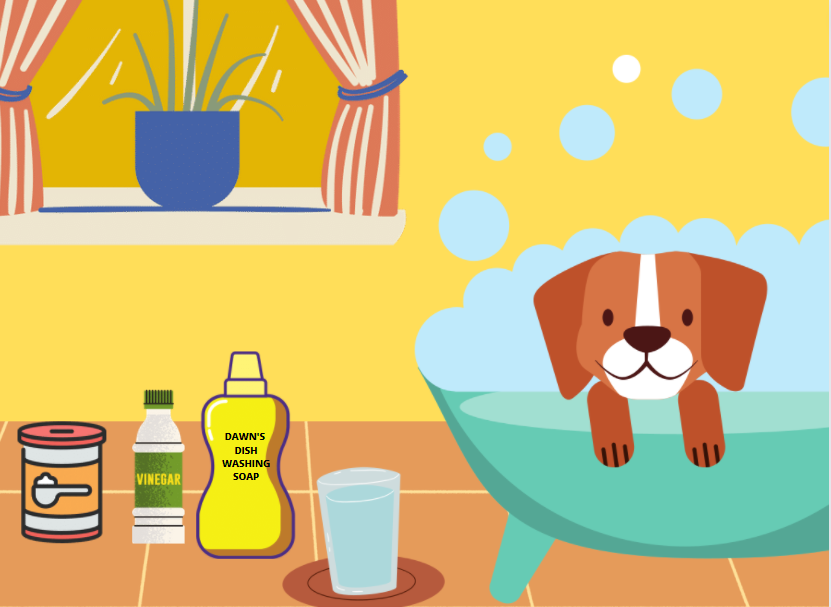 Imagine being stuck at home, not able to get the dog shampoo you need urgently after panicking for your dog's flea infection. Do not need to worry, as this DIY shampoo is going to solve your issue.
Get ready these 3 household ingredients, and you are good to go:
White vinegar
Dawn dish washing soap
Start with a half glass of water, 4 Tablespoons of White Vinegar and 4 Tablespoons of dawn dish washing soap (safe for dog's coat). Mix them up.
You can now proceed to your dog's bath time. Massage your dog properly with the DIY shampoo, focus on the darker areas where fleas cannot be seen easily as they love hiding in darker tones of your doggo.
7. The Golden Hour Timing Life Hacks to do Difficult Dog Grooming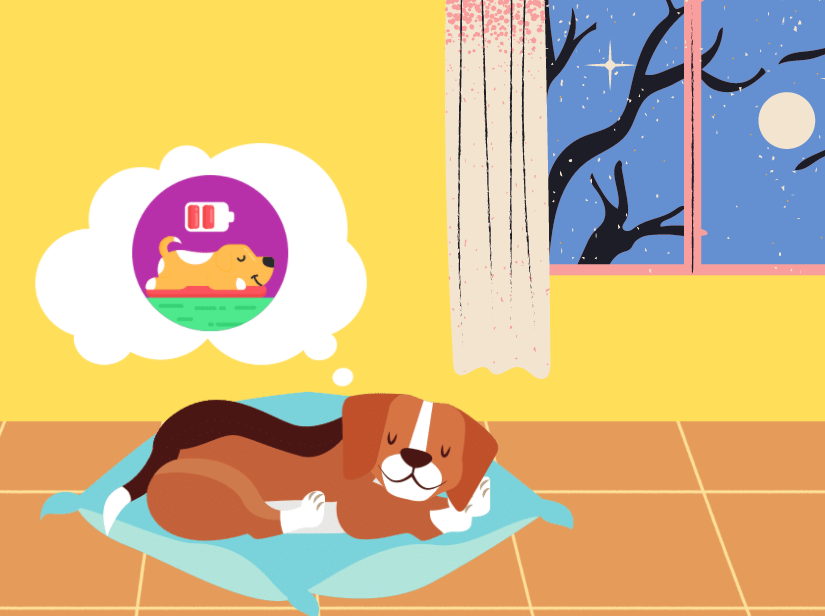 Dogs are generally defensive when they are touched. Thus, when cutting nails or cleaning their ears we need to choose the golden hour timing.
When your dog is in a mood for play with high energy drive, choose to take them out for a walk instead of cleaning them. Make them tired after a walk and play, when they are tired, the golden hour comes.
You can start cutting their nails and cleaning their ears as they will be less likely to be more defensive or active. Know your dog well and they will get used to it.
8. Smelly Urine Stain Rescuer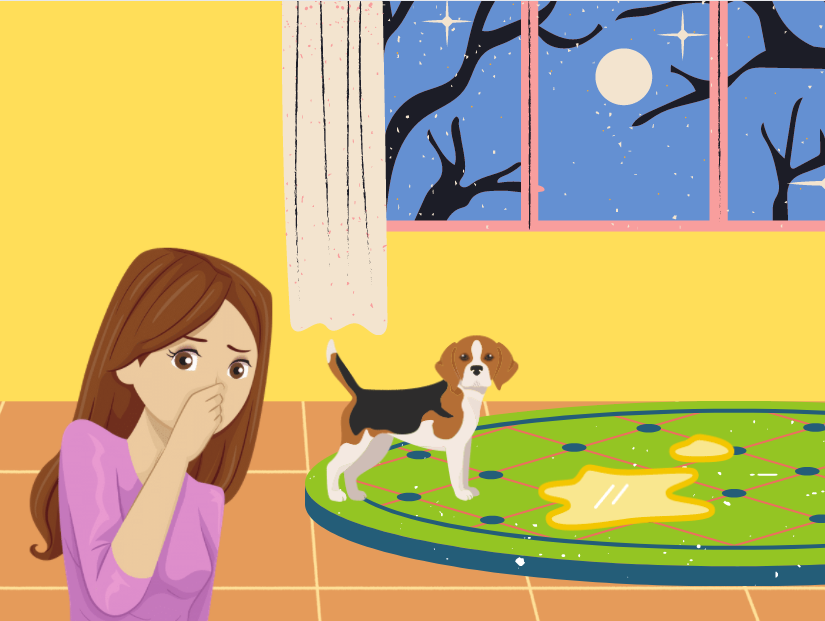 Sometimes we ran out of the dog urine cleaning soap we bought from the store, and someone in our house starts complaining of your dog's urine stains. We have the remedy for this.
Everything you need might be just around you. This time, these 3 superheroes is going to save you the trouble. They are baking soda, vinegar, and water. Mix them up and your dog's urine stain is gone by the wind! Simple, quick, and easy.
9. The Nose Game to Keep them Busy a Long time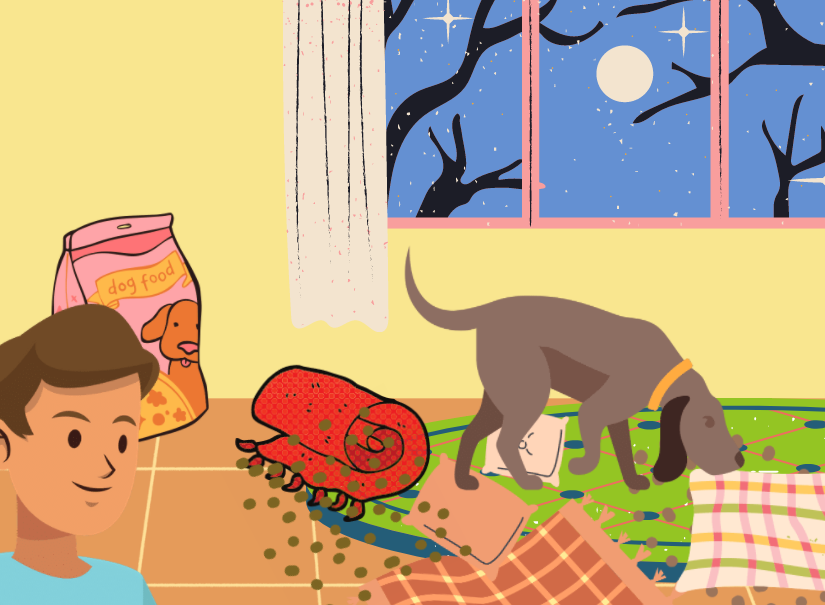 The Nose game is a very interesting game that can bring you lots of laughter when you see your dog in it. Take a handful of kibbles simply put them randomly all around and your dog's play area.
It can be placed under your dog's blanket, pillow and any places hidden. The idea of the nose game is to get your dog distracted in a treasure hunt which could take up some time. Keep them busy with this nose game, and you can focus on things you need to do while they are on their nose game.
10. Stuff toy with Rope , DIY Toy Without Breaking Your Bank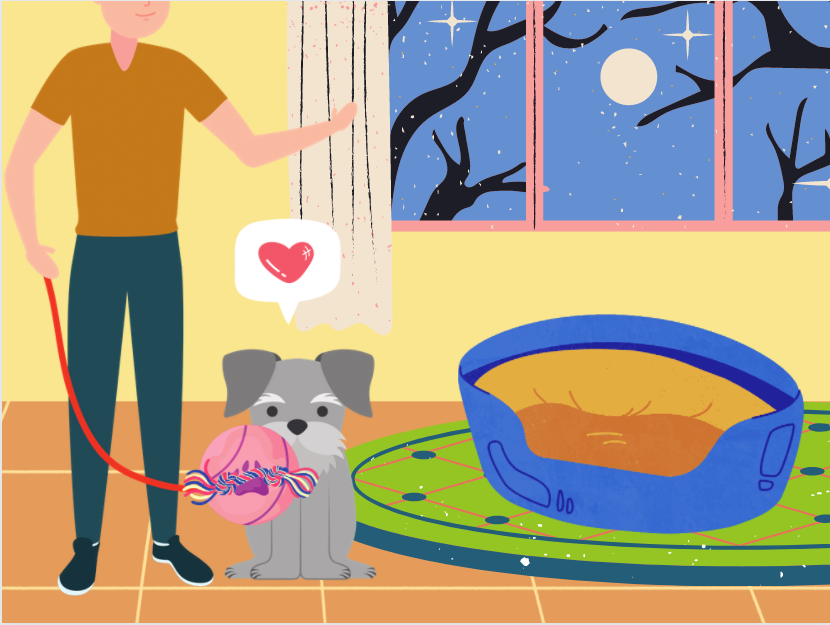 Besides getting the normal dog toys from the pet store, some DIYs can be pretty fun. Grab a stuffed toy, tie with a steady rope safe for biting. Drag it all around your dog's play area or your home garden.
Having various games on and off is essential to cure boredom especially during the puppy stage of your dog. Swap toys and games on and off. Do not throw all toys and ideas in one day.
11. The Human Hand Game to Bond Well With Your Dog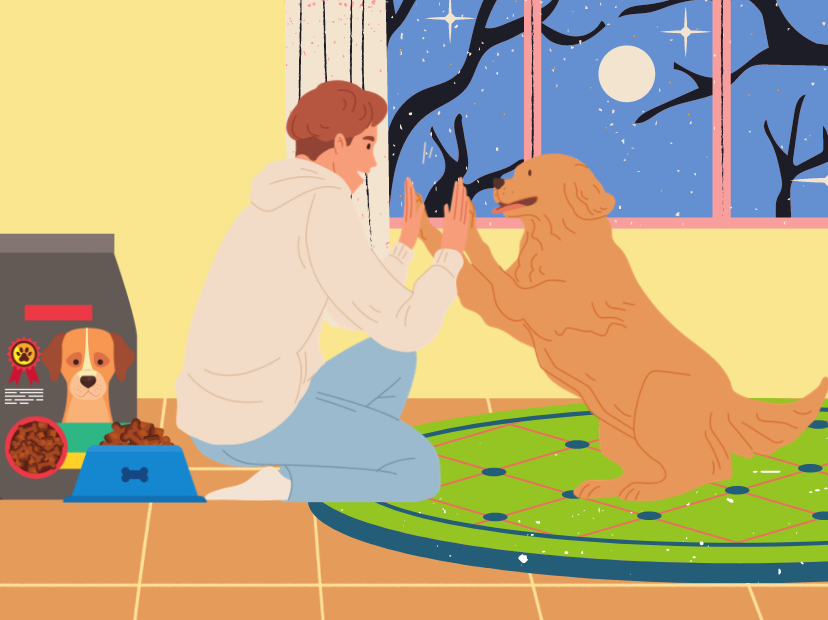 The Hand Game is the most adorable game ever. This is because this guessing game is really hilarious when you play it with your pet dog.
You only need some dog kibbles and your hands. Grab a few kibbles and hide it in one fist. Allow your dog to sniff the correct fist, if your dog sniffs first to the correct fist then reward your dog.
If incorrect, do not offer the reward kibbles. Looking at your dog's confused face is going to be interesting for both owner and pet. This guessing game could be practiced at anywhere and anytime.
12. Dog Massage for a Spa and Relaxation Day for Doggie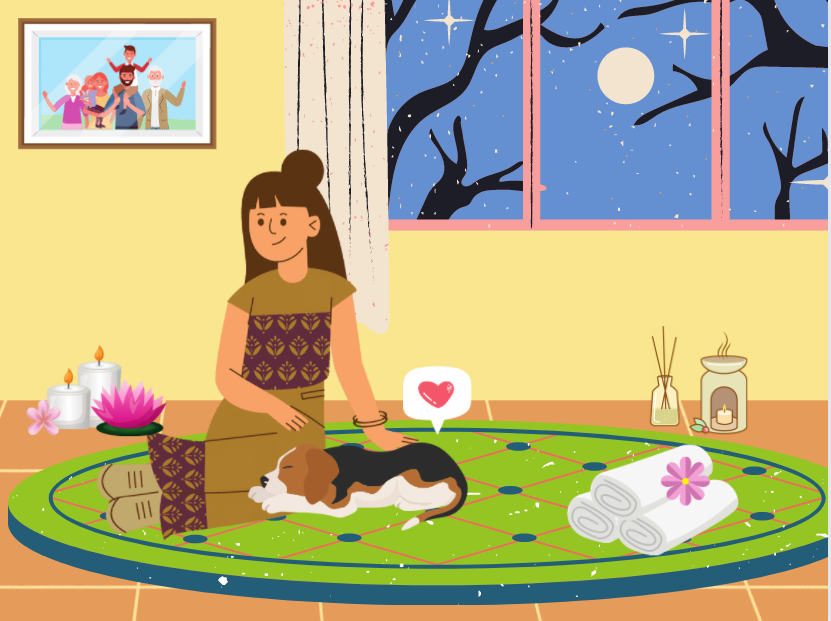 We as humans enjoy a good day at a spa and massage center. Dogs do enjoy massage time. Do some simple easy massage around their neck and belly.
A dog massage is said to reduce stress, improves circulation, aids digestion and even improves their immune system.
Remember to massage your dog where it likes to be touched and feel comfortable most. Apply gentle pressure and strokes. Your pet dog will appreciate this very much, and it does not cost any money.
13. Play some Peanut Butter Flavored Bubbles with your Dog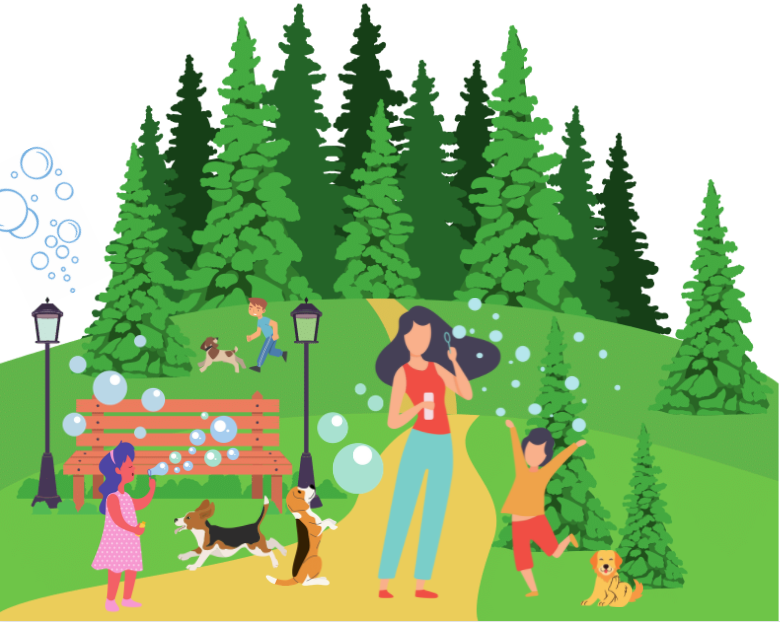 Dogs are like kids, they enjoy watching and playing with bubbles too. Make sure to get the bubbles safe for dogs, as they are also safe for kids.
The famous dog-safe bubble maker has peanut butter infused with it. Your dog will enjoy chasing and bursting these bubbles. Besides the peanut butter infused bubbles, there are also bacon scent bubbles.
14. Dog Trainer Clicker for Effective and Consistent Training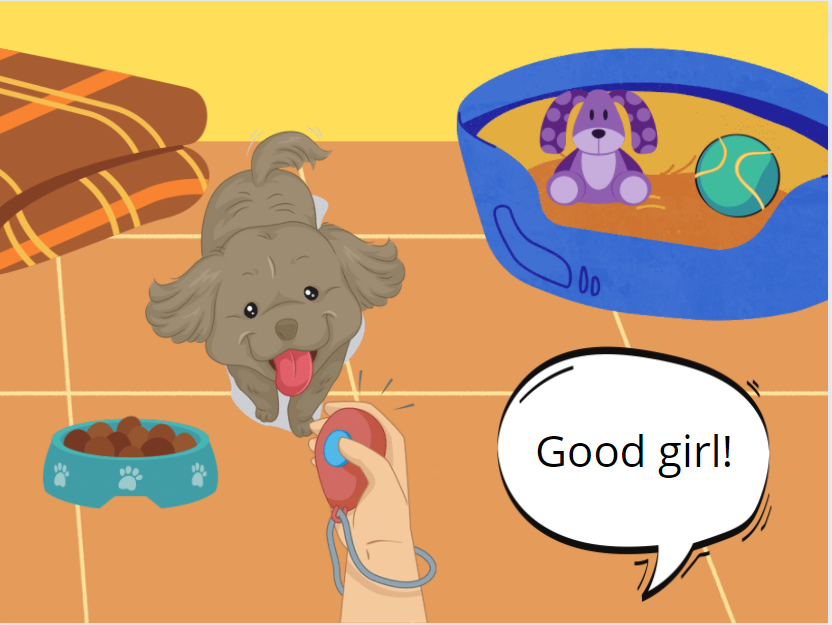 Have you heard of the training clicker or some even called it marker. This amazing training tool has a distinct and unique sound.
This made it easily remembered by your dog, thus it is more effective in dog training. When your dog is under training to do the right thing, be sure to be consistent.
With this Clicker, it ensures consistency. Each time your dog does it right, click it. Be sure to bring it and utilize to in every training session. Besides dogs, other pets could utilize this device too for trainings.
15. DIY Life Hacks Dog Carrier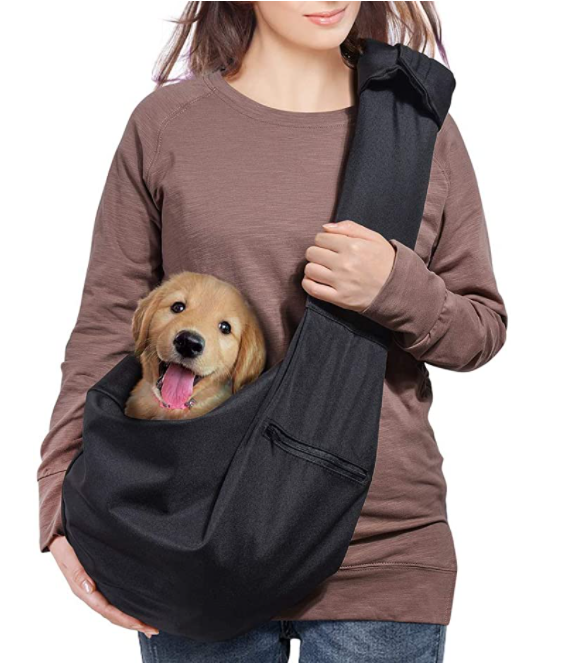 A DIY dog carrier could be made out of your old gym bag or sling luggage bag. Firstly, you should know the size of your dog and custom make the measurements for her body length and paw size.
Then, cut small holes underneath the base of the sling luggage bag. Ta-da! You just made a DIY dog carrier which you can easily sling over your shoulder.
Be sure to test the comfort level for your pet's head, neck, and legs. You do not want to end up choking her or stressing her legs when placing her inside your DIY dog carrier.
16. Dog Tracker on Dog's Collar in Case Doggie Goes Missing!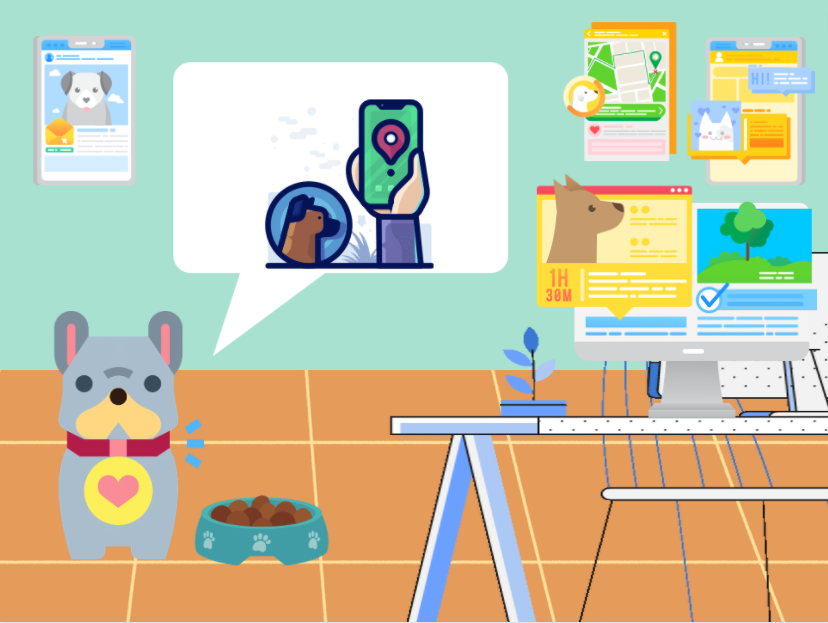 Worried that someone might steal your precious pet? Worried that your dog got lost suddenly? Have no fear, with technologies these days everything can be solved.
You can place this waterproof GPS Dog tracker on your dog's collar. It is small, light and most importantly has worldwide location tracking.
This device has real-time live tracking which you can conveniently view them from the comfort of your mobile phone.
17. Putting Dog Food on Dog Toothpaste to Encourage Dental Routine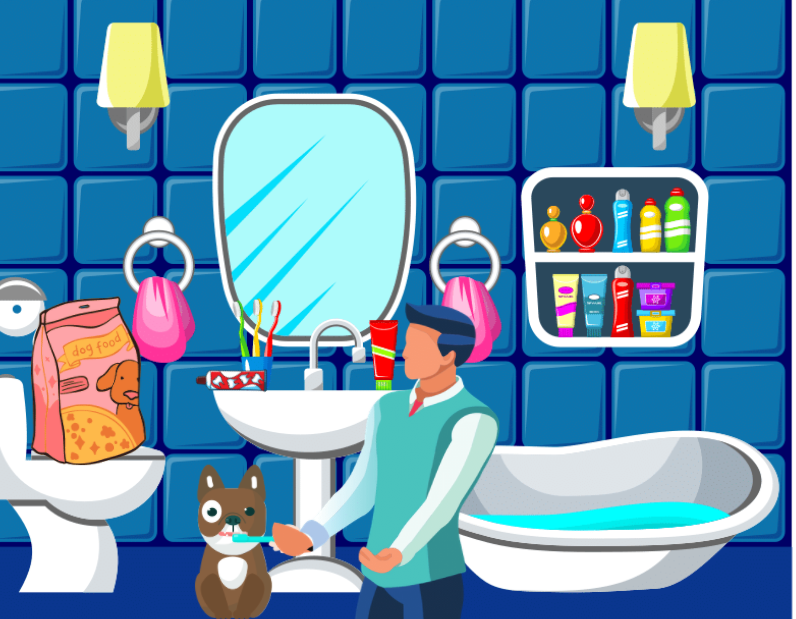 Some of us have a hard time cleaning our dog's teeth. Their dental routine becomes stressful thus we need to think so a way to ease it.
One of the life hacks is by putting some dog food inside the toothpaste to attract your dog to it. The smell of their dog food is so irritable that it could not be avoided.
Food is happiness to your dog, thus this trick most likely to work for many dogs.
18. Poop Collector With Plastic Inside
These days we have 2-in-1 poop collector which comes with a plastic bag supply attached to the collector. It is portable, extendable and super convenient for all dog owners during a pet walk.
You just need to take the plastic bag out the dispenser. Wrap the plastic bag around the scooper. Then create a pocket inside the scooper.
Finally, you can pick the poop easily without getting your hands dirty or wet.
19. Walnut Oil for Removing Dog's Scratch Marks
It is a common thing to get scratch marks all over your furniture. Do not get frustrated when your dog spoils your favorite wood piece, there is a natural home remedy to this.
Use walnut to rub it against the scratched surfaces. Walnut oil helps create a dark layer over the furniture which hides this defect area of your wood furniture.
20. Collapsible Water Bowl for Travelling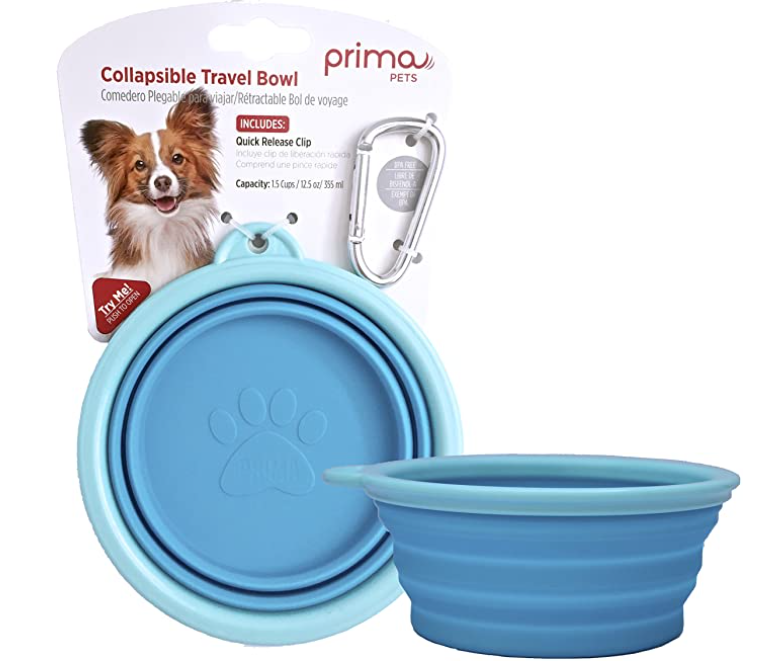 During walks with your dog, bringing along your water bottle with their typical dog bowl is adding too much baggage. Thus, a collapsible water bowl is going to help you to stay compact.
Stay sleek and stylish while walking your dog anywhere and everywhere. Buy here at cheapest rate!
21. DIY Dog Bed Using Everything Your House Surely Have!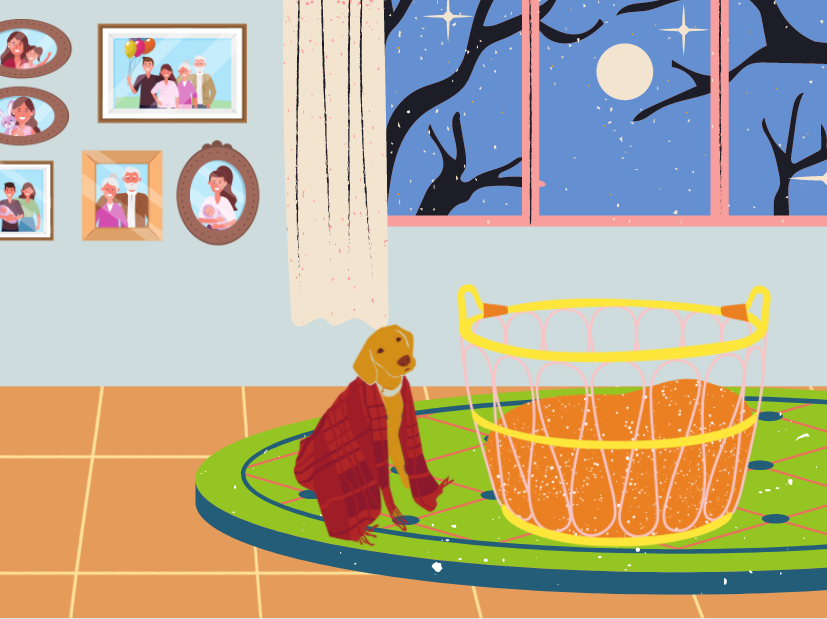 Many new dog owners will get excited and end up buying a lot of things for their new pet.
Sometimes we all get too excited to the point we overbuy certain things. We did not do enough research before shopping those pet supplies.
For example, if we end up buying a low-quality dog bed, our bed would be wrecked in just a few days by our dear pet.
However, with your house supplies, you can make a DIY dog bed. Grab a laundry basket that shaped rectangular, a pillow and blanket. Use the laundry basket as the base, place the pillow inside it and wrap it with the blanket. It is ready!
22. Spill Proof Bowl For Travelling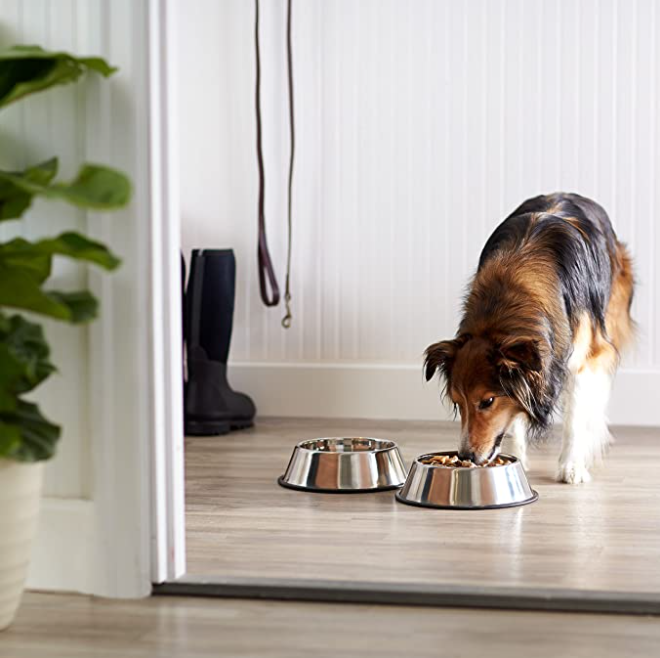 When travelling your pet in car rides or the outdoors, we definitely want to avoid any mess possible. Thus, getting a spill proof bowl would be one of the best investments for your dog.
We need to make sure we always equipped with extra dog bowls. The rubbery grip base from these spill proof bowl and the heavy weight of the bowl helps stabilize the bowl during your dog's wolfing down session. It prevents sliding and does not scratch surfaces too.
23. Dog Nibbling Too Much? Use Bitter Apple Spray!
Do you have mums at home who keeps screaming at your pet dog, especially teething puppy? Fear not, with bitter apple spray safe for dogs.
Ensure to get alcohol-free formula bitter apple spray. Get pet safe products to avoid poisoning of your pets. This can also be used as training tool. This Bitter Apple spray is extremely bitter, and this is something your pets will hate. No more screaming or yelling at your pet dog.
24. Frozen Treats For Teething Puppy!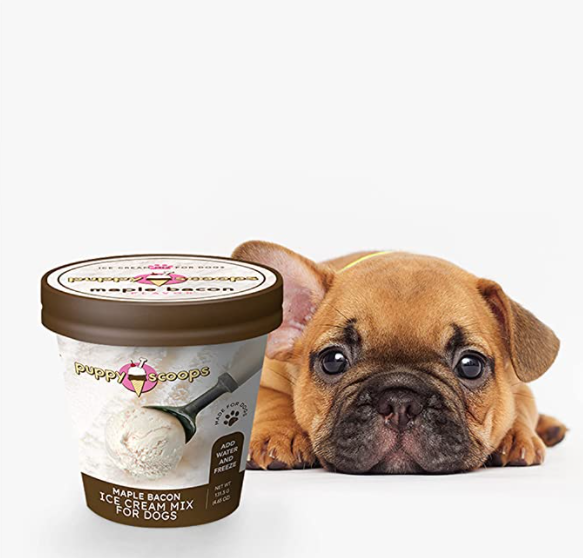 Some very easy home remedies for teething puppies or even dogs not teething, are frozen treats.
During a hot sunny day, you can give your pet frozen carrots and pet-safe popsicles. When giving human-dairy food to your dog, be aware with the ingredients of the frozen popsicles.
If you know your dog often have stomach issues, avoid frozen dairy. Simple frozen carrots and cucumber will do. These are also more economical in value. You can get one here!
25. Dog Life Hacks: DIY Tug of War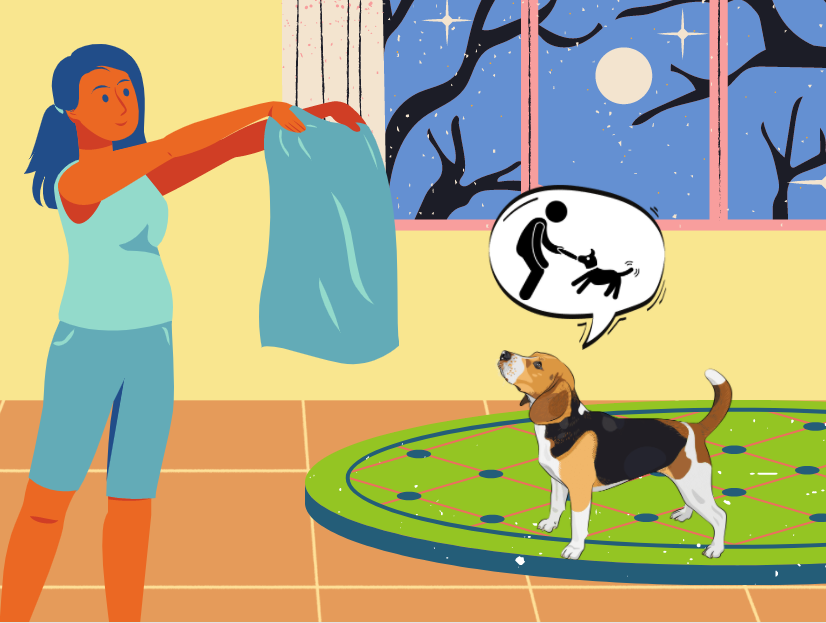 Simple and cost-efficient DIY tug of war toys are just laying around any household. Yes, you heard that right.
Use your unused old clothing, you can tie them in knots, and it is ready for play time for doggie. Tug of war is one of the most enjoyable games which is good for your dog's mental and physical exercise. It is also good for doggie's teeth and muscles.
26. Alternate Toys to Avoid Boredom of Your Dog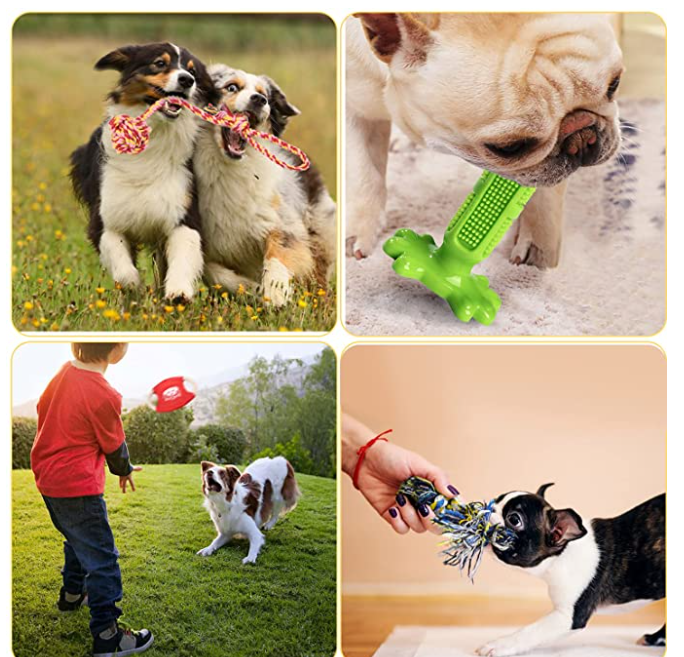 Dogs get bored easily too. One tip to know is, never throw all toys at once. Practice to alternate your dog's toys to avoid boredom.
Each time you give them a new toy, grab the current abandoned toy laying around. You can take this chance to wash the unwanted toy, remove the scent. You can exchange it back for the next swap. This method not only saves money but is effective to cure boredom of your dog.
Check out here for all the alternate dog toys!
27. First Aid Kit For Dogs Especially During Travelling
When taking out your doggo, never assume that accidents will not happen. Like humans, we also need a first aid-kit ready for your pets when travelling to the outdoors.
Be sure to spend your money right at the first buy itself, get the most comprehensive pet first aid kit you can get from the market. With the first aid kit in hand, you do not need to panic when accidents occur to your pet dog.
You can enjoy the outdoors with a relieved mindset with everything taken care of in advanced.
28. Arrange Play Dates With Your Friend's Dogs For a Fun Day Out!
Just like humans, friends are equally important for our dogs. Exposing your dogs to other dogs is important as this exposure not only helps in a healthier and happier dog.
During the social process, your dog may do something not allowed and the other dog might warn it not to do it. It is another form of teaching for the dos and don'ts.
Arrange some play dates with your friends' trained dogs, not only your dog can learn something. As a dog owner, you could exchange some useful knowledge and views on your pet care and life hacks.
29. All in One Dog Bag Pack During Travelling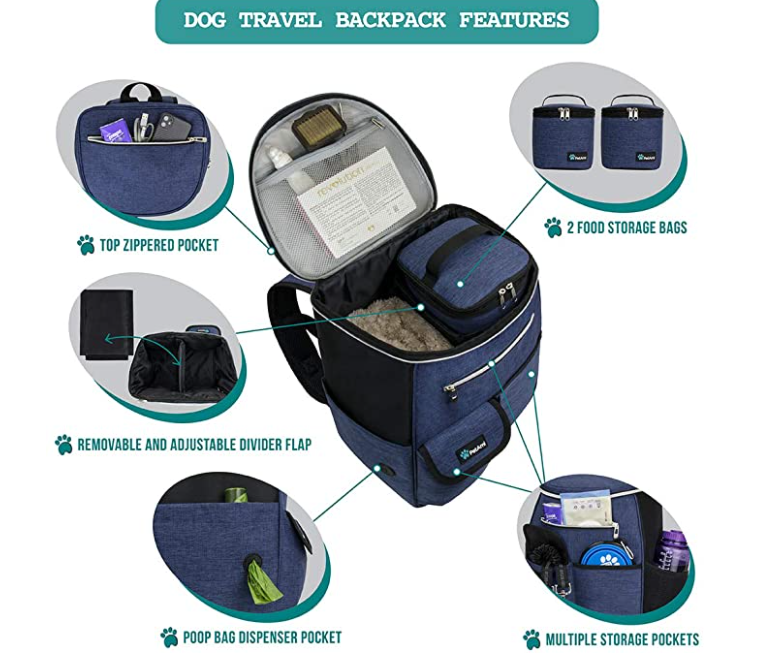 Having a dog is similar to having a child that never grows up. Thus, the essential needs are quite similar.
A multi-function travelling bag that fits your dog food storage, poop bag dispenser, dog diapers, waterproof and multiple dividers with pockets are important features to be taken when choosing the bag.
A unique feature in a travelling bag pack customized for dogs is the poop bag dispenser pocket. You can easily pull out the poop plastic bag when your dog had finished his business.
30. Nature's Way to Treat Your Dogs Healthier Without Breaking Your Bank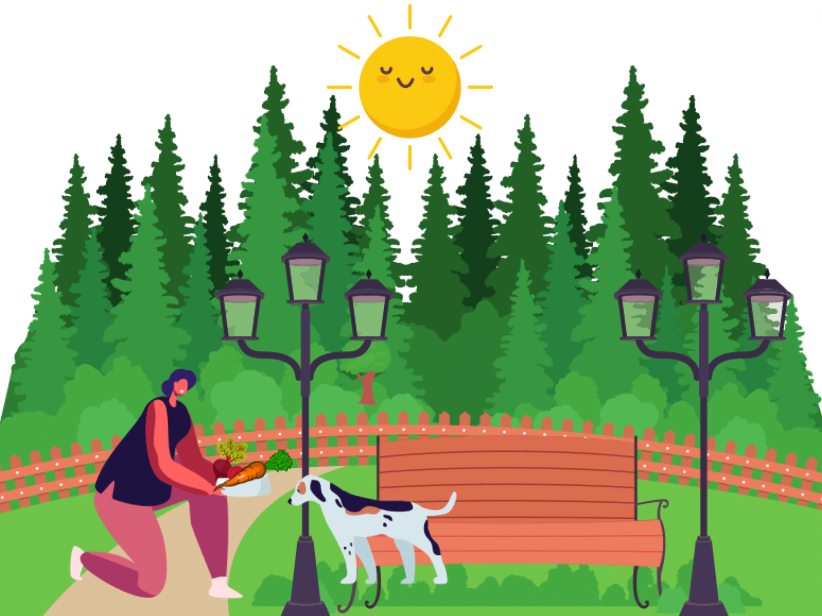 As a new dog owner, you may get excited to buy some dog treats from the pet stores. Do you know that those are like junk food and not to be encouraged for your pet?
Too much isn't good for your dog. Thus, you can opt for natural organic and cheap treats like carrots and cucumbers.
Chop them up small enough so they do not choke on it. If you are lazy, you can get some baby carrots too. Those pet treats from your local pet store are not only expensive but the price is times 3-4 times more expensive as compared to the price of a bag of carrots.
Furthermore, this bag of carrots could last you a week. Carrots have fiber, Vitamin A and good for their teeth.
You can also chop beetroots and broccoli (chopped or steamed) for your dog if they ever get bored, you may swap occasionally.
31. Stuffed KONG Toys Which is Not Your Ordinary Dog Toy
One of the most popular dog toys brands is the KONG toys. As a dog owner you will never not know this brand.
This is famous due to their quality and safe material. KONG's interactive toys are useful to entertain your dog as you can stuff the toys with dog kibbles and treats. Thus, it keeps your dog entertained for quite a moment. Kong toys are fun to chew, chase and fetch.
32. Chew Bones to Keep Those Teething Issue Off The List
Chew bones are one of the best options in keeping your dog entertained for a long time. This is one thing you do not just leave it around for them.
Keep it as a secret weapon during emergency when you really have to focus on your urgent matter and needed some away time from your dog.
Choosing the right chew bone according to your dog's age and size is essential to know, as this would affect their teeth health. Be cautious on the type of materials made for the chew bone given to your dog.
All dogs have a different chewing preference. Different breeds have different aggression in chewing. Make sure to pick bigger chew bones to avoid choking.
Bottom Line
A decision to adopt or buy a pet dog is a life-long huge responsibility and commitment. Be sure to treat your pet dog as family as dogs are known as the most loyal companion in the animal kingdom.
Dogs are really special animals. As compared to other animals, they are the few species who connects and understands, us humans. According to studies from the MSU,  having a pet dog is beneficial to a family.
Valuable life lessons such as responsibility, trust, compassion, respect, and patience could be nurtured by having a pet dog at home.
We hope that our list of dog life hacks can help you step up to the next game!