Vacation abroad for a few days, of course, you need a place to stay. The hotel is one of the favorite places to stay because of its complete facilities. Yes, the more complete the facilities will also affect the price. The more luxurious it is, the more expensive the hotel price will be. However, the sensations and experiences you get when staying at a luxury hotel will certainly leave an impression on your heart. If you want to find and try to stay at a luxury hotel, here are some of the luxury hotel in the world.
1. Lover's Deep Luxury Submarine, St. Lucia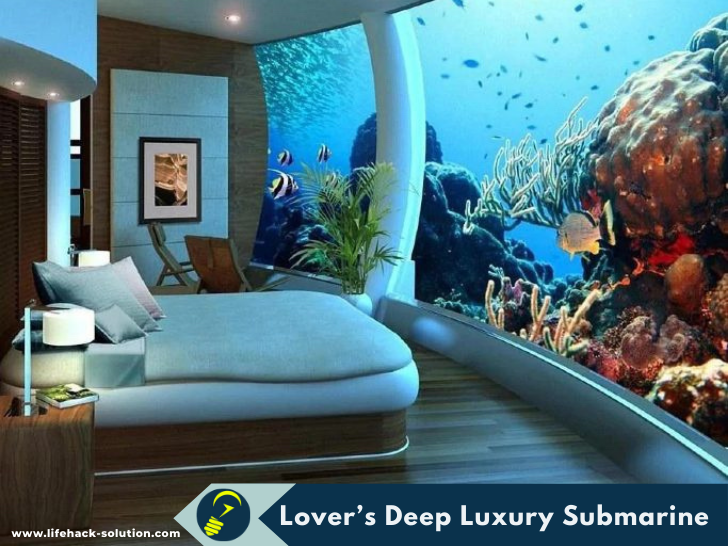 Apart from the Bahamas, there is one more country in the Caribbean that is highly recommended to visit. The country is St. Lucia. Having mountain and beach views, there will be no more debates between going on a vacation to the mountain or the beach because St. Lucia has both.
And if you're looking for a place to stay, try staying at Lover's Deep Luxury Submarine. This hotel is unique because it is under the sea. Allows you to see what life is like under water in St. Lucia. Romantic? Of course romantic. With a stay of around USD 300,000 per night, it is well worth the beautiful views and romantic ambiance that Lover's Deep Luxury Submarine provides.
2. Atlantis Paradise Island, Bahamas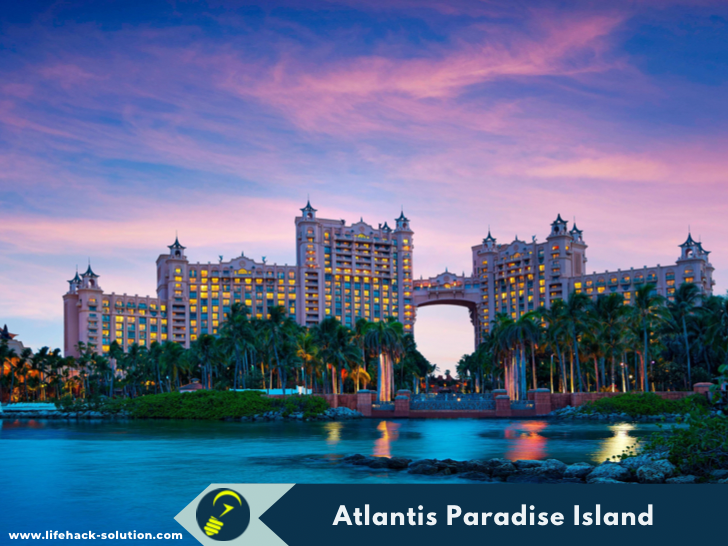 The Bahamas is a highly recommended tourist destination. Especially for those of you who have more budget, it is mandatory to try a vacation in this one country. Located in the Caribbean, those who like the beach and hobbies will certainly be satisfied enjoying a week or two of vacation in this one country.
One hotel that could be an option is Atlantis Paradise Island. A luxury hotel with a total of 23 floors. This hotel can pamper anyone who stays in it. Dining rooms decorated with gold, super friendly waiters, rooms with romantic views that can be enjoyed by newly married couples, and other public facilities that are certainly available in other luxury hotels, Atlantis Paradise Island also has.
3. Burj Al Arab Hotel, Dubai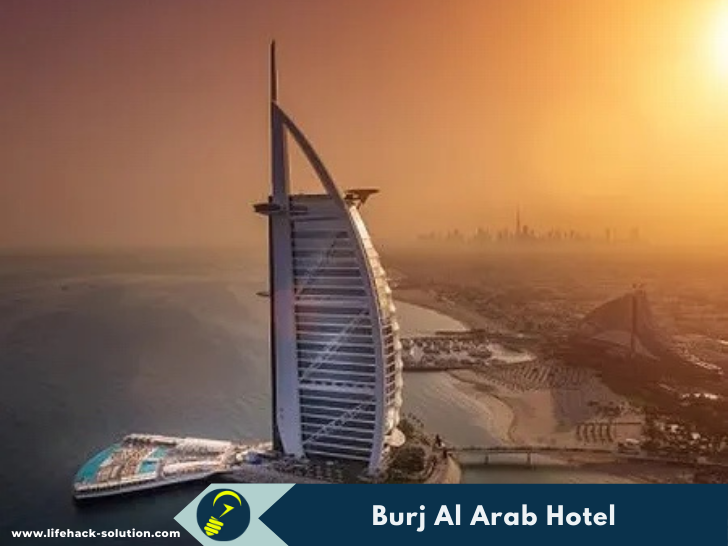 In both cities in the United Arab Emirates, not a few people are confused between Dubai and Abu Dhabi. Both are attractive cities to become vacation destinations. And these two cities each have luxurious hotels to stop by. For those in Dubai, the luxury hotel in the city is called the Burj Al Arab Hotel.
Dubai is known as a city known for its luxury. A very modern city with cool architecture, shopping with famous brands, and a nightlife that seems like never ending. To complete all these luxuries, it's clear that you should try to stay at the Burj Al Arab Hotel. All rooms are guaranteed to have an aura of luxury that can amaze everyone.
24 hour service that you can call at any time, tennis courts, futuristic dining, and of course a night bar where you can enjoy alcoholic drinks and music. For special guests, a special car from Rolls Royce is also provided.
4. Grand Resort Lagonissi Athens, Greece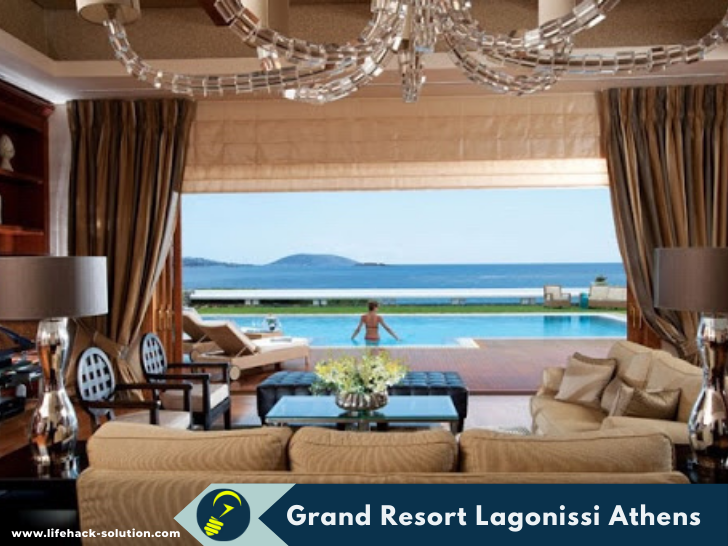 Speaking of history, Greece has a lot of history. Not to mention the addition of relics in the form of historical buildings that are still preserved today. What is a magnet for foreign tourists to go to Greece is not only history but also beautiful beaches like those on Santorini.
Greece has a capital called Athens. In this city there is one of the most luxurious hotels in the world called the Grand Resort Lagonissi Athens. Located on the Athenian Rivera, this hotel features 10 restaurants, 197 total rooms and 76 suites. Other facilities are also available such as helicopter lifts, yacht rentals, and luxury limousines for special guests. Staying at this hotel will make you feel like an important person.
5. Grand Hyatt Cannes Hotel Martinez, Cannes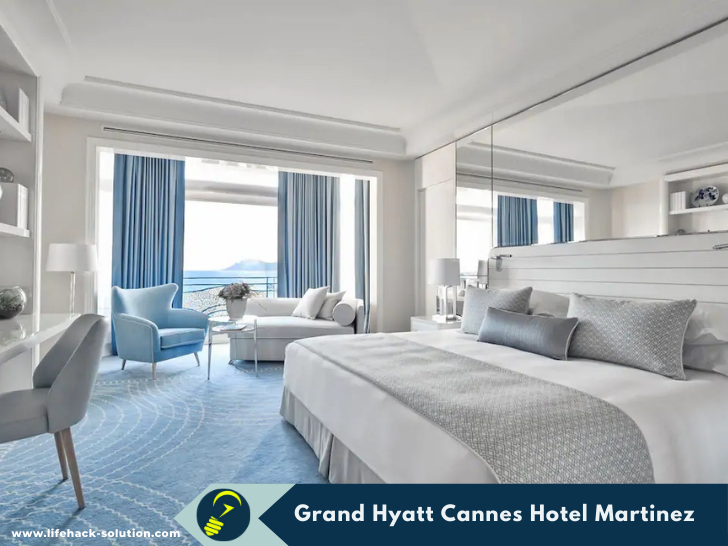 I feel bored when discussing France always mentioning the name Paris. It is true that the most prominent tourist city in France is Paris. But Paris is not the only city in the country. There are still many other interesting cities that can be used as tourist options. Cannes is one of them.
Although not as famous as Paris, Cannes has beautiful beaches that you might not find in other cities. A number of boutiques and luxury hotels are available in the city. The most luxurious hotel that you can visit there is the Grand Hyatt Cannes Hotel Martinez. This 5-star hotel has been around since 1929. Designed by Italian aristocrats, the design of the hotel is not far from Italy. Having very complete facilities, those who stay here can get the bonus of a beautiful view of the Bay of Cannes.
Read Also: How to Find Hidden Camera in Hotel Room – Advance Travel Safety Guidance
6. The Westin Excelsior, Rome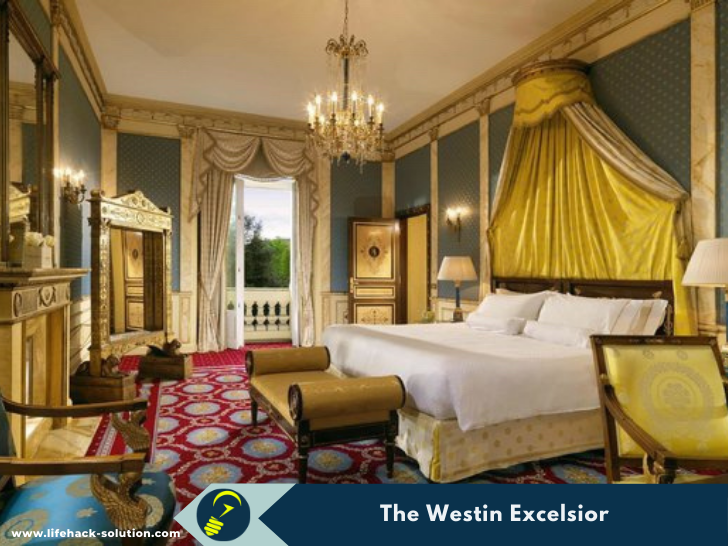 Italy is indeed an interesting country. This country has many choices of cities that you can choose which one you want to be a vacation destination for. Rome is one of them, this city is very thick with its distinctive architecture and of course a historical place like one of which is the place where gladiators fought in ancient Rome, namely the Colosseum.
Speaking of lodging, it is impossible for a city like Rome to not have luxurious hotels. Is The Westin Excelsior which is one of the recommended hotels in Rome. Hearing that The Westin is certainly familiar because this hotel is known as one of the top hotels in the world with hotel facilities and services that never disappoint. The Westin Excelsior was built in 1906 in Via Veneto district.
Once inside, you will be presented with a view of an old-style hotel combined with a modern style. Activities that you can do at the hotel
7. Raj Palace Hotel, Jaipur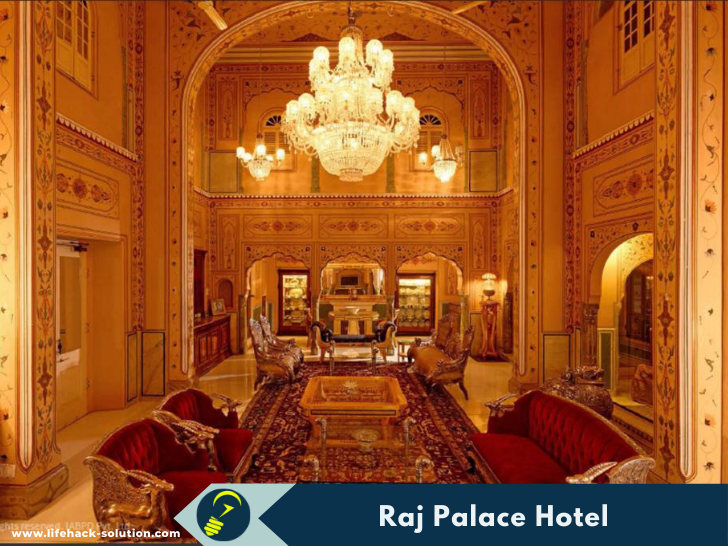 In India there is a city that is nicknamed the Old City. The city in question is Jaipur. It was given the nickname because the age at which the city was found was very old. The buildings in the city are also very old buildings. Apart from Old City, another nickname given to Jaipur is Pink City because the color of the building uses a lot of pink.
It doesn't need to be expensive to travel to India, let alone to Jaipur. The food and lodging there are relatively cheap. Even though it is cheap, the hotel where you stay in Jaipur, called the Raj Palace Hotel, still maintains its quality. The hotel is very historic and has many luxurious rooms.
It has a museum, restaurant, spa, cinema, pool, garden and sports field. Friendly service, providing currency exchange, and complete facilities available at this hotel. Well, don't forget about cafe and roof bar too! A lot of luxury hotels have rooftop bars that have been featured on the top rooftop bars list.
8. Hotel President Wilson Royal Penthouse Suite, Switzerland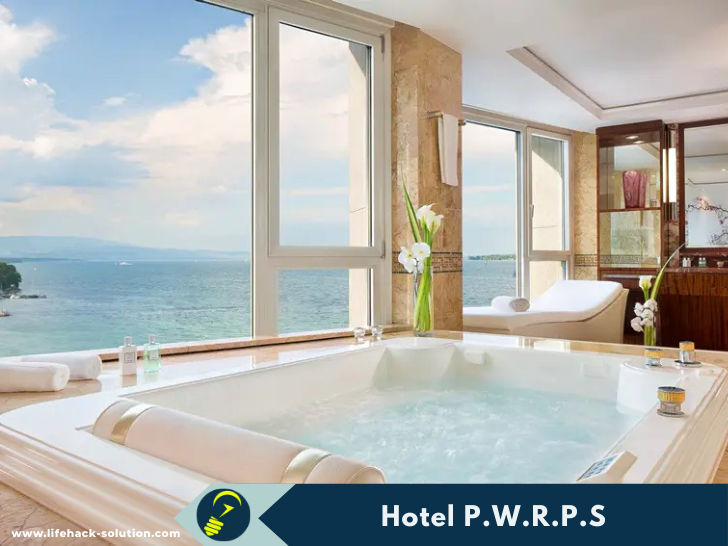 Vacationing to Europe does require a lot of budget, especially if you choose to vacation in Switzerland. Switzerland is known as one of the countries in Europe where the necessities of life are quite high. Even so, there are still many people who make Switzerland a vacation destination, considering that Switzerland is very close to the Alps, of course, the scenery is unquestionable.
One of the cities in Switzerland, namely Geneva, has a hotel that is quite luxurious. The hotel is the Hotel President Wilson Royal Penthouse Suite. Named after the 28th president of America. Those who stay at this hotel can directly enjoy the view of the Alpes Mountains. A 5-star hotel that has complete facilities that can pamper all its residents without exception.
9. Emirates Palace, Abu Dhabi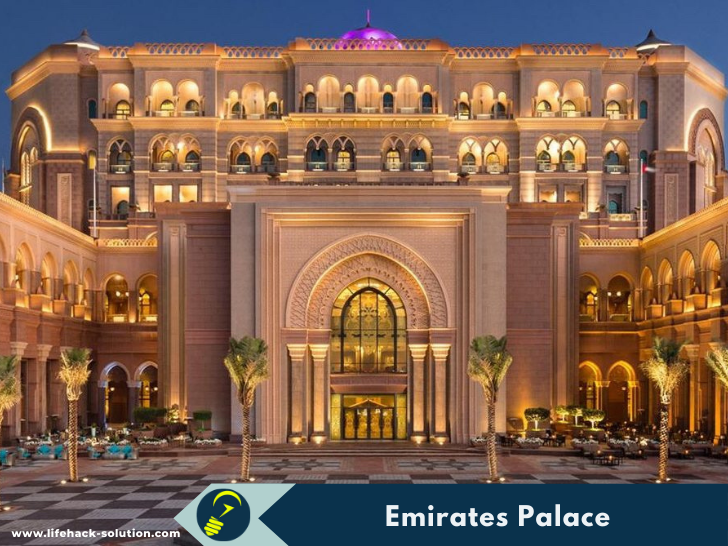 Abu Dhabi is the capital of the United Arab Emirates. Talking about this city, this city has long been one of the main attractions for foreign tourists. A very modern coastal city, a place where business and government go hand in hand in this city. Almost similar to Dubai, this city has a very visible impression of luxury.
Talking about luxury, there is one luxury hotel that you can find when on vacation in Abu Dhabi. The hotel is the Emirates Palace. This hotel is one of the most luxurious hotels there with a total construction cost of around 3 billion USD. In total there are 394 grand room suites, 40 meeting rooms, swimming pool, beach and spa. Some rooms are even decorated with expensive Swarovski crystals.
10. Rancho Valencia Resort & Spa, California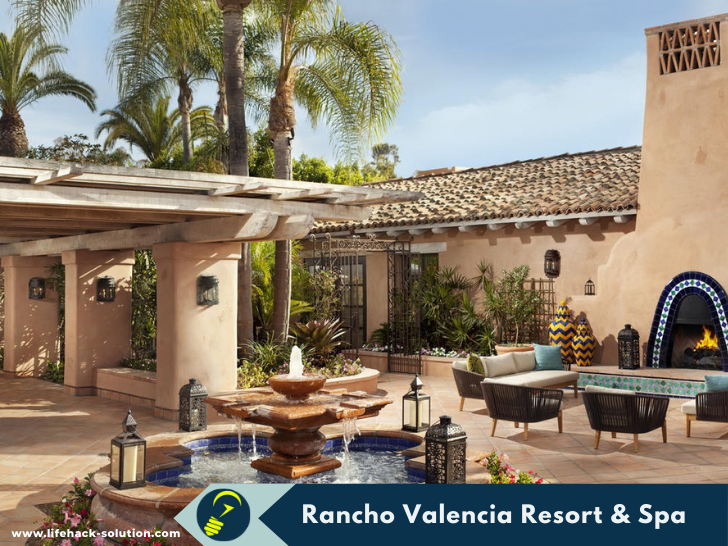 There are several states in America that are worth visiting. One of them is California. California is an American state in the west, close to the Gulf of California and the Pacific Ocean. A number of things can be done from enjoying the beach, visiting Yosemite National Park, and Disneyland.
There are so many interesting activities that can be done there, of course it will not take enough time for just one day. If you want to find a hotel that has a luxurious feel, try Rancho Valencia Resort & Spa. Located in Southern California. This hotel can make you feel at home for long there. There is a restaurant, sports venue, playground, swimming pool and spa. With such complete facilities and satisfying service, anyone will definitely feel at home staying at this hotel.