Travelling alone has higher safety risk as you're now being an easy target for a crime and bad people out there. If you follow below safety tips for travelling alone, we'll make sure that you'll be fine and lower your anxiety.
Travelling alone or what we called by "solo travelling" can have some advantages as compared to travelling together!
You're all by yourself now. Plan the itinerary by yourself, do whatever you like, and nobody to wait for!
You might feel like a free bird now until you forget that there are some dangers that are waiting for you.
Because you're alone now, you'll become an easy target for crime. There are bunch cases of solo travelers being attacked. The reports indicate that the crime mostly happen to woman.
Therefore, we're going to list down full guidance of what you need to prepare as the safety tips for travelling alone.
1. Choose Your Accommodation Carefully
Picking the right accommodation is the most crucial safety tips for travelling alone. Here are some advise on how to get the right accommodation:
Try to Get Four Stars Above Hotel
The higher the hotel quality, the safer it will be. The four stars above hotel usually have better management and security such as guard and security camera. By having these security system, at least the criminal will think twice before break in to your room. Other reason is, the people who stays in high quality hotel tend to have more manor and educated well.
The smart way to allocate travel budget is actually by cutting down your flight ticket and invest more on your accommodation. Accommodation is the place where you want to relax and chill. Let's ask yourself, why would you having a vacation by sleeping in a hotel that is worse than your own room? It is better to spend extra money on staying safe!
You can read our 9 advance tricks to fly cheap and get the lowest airfare ticket.
Check The Ratings and Reviews of The Hotel
If you still want to save up for your hotel budget, it is preferable to check the ratings and hotel reviews. A good ratings and reviews indicates that the hotel is safe. My preferable website to check those reviews is TripAdvisor. You can also check other popular hotel review site such as Booking.com, Yelp, and Foursquare.
Most of the travelers will leave their feedback on these sites and you could investigate the hotel's reputation here.
Pay Attention on The Location and Area's Surrounding
Other than quality and ratings, you also need to do some appropriate research of the area that you're gonna stay. As safety tips for travelling alone, you'll might want to make sure that you'll feel secured in the place you stay.
Avoid staying in a hotel that have a lot of crime rate. You can use sites such as SpotCrime and CityProtect to check the police and crime information. Just type the hotel address to the site to see all the crime records that have been committed in the area that you're going to stay.
2. Avoid Appearing as Spotlight
When you travelling alone, one of the safety tips is try not to stand out. It is sound simple, but it is very important. When you look stand out from the crowd, all eyes will be looking at you. The situation now is different that you're alone and all by yourself!
You might don't know if one of the eyes are coming from these criminals, stalkers, or some perv. There are a lot of criminal story which began from stalker that obsessed with the victim.
Try to look normal by avoiding to wear those jewelry, bright and eye catching clothing. Also remember to dress appropriately.
3. Be Aware of Stranger
Pay attention on the surrounding. If you realize that you've been followed and watched by some stranger, go to the nearest police station and report it.
Sometimes, it can be tempting to join up some new group or tribe. While some of these tribes turn into a long last friendship, some turn bad. Remember to do not trust new people too quickly.
Pay Attention on Drink
When you go to a bar, pay attention on your drink. Don't let some stranger distract you so that they can sneakily put something into your drink.
Never Tell Where You're Staying
Telling which hotel that you're staying to the people you just know it's a bad idea. One of the crucial safety tips of travelling alone is by never sharing where you're staying.
In travel, you might happen to meet some people and had a small talk. When they ask where do you stay, just tell them that you're staying nearby this area.
4. Avoid Reaching Hotel at Night
According to the FBI data, crime and assault occur mostly at night where it is dark and less people. Avoid to get back to your hotel at night.
However, if you have no choice to return before night, make sure to take a taxi instead of walking or public transport. Hence, you will reduce the chance of get into bad people at the street and followed.
You can also ask the hotel for an escort to your room if you are nervous.
Besides, make avoid to choose a flight timing that make you arrive at the hotel at night. Calculate the distance and duration from the airport to your hotel.
5. Know Who to Contact For Emergency
When you're travelling alone overseas, your family or friends will be your second options for emergency contact. Unlike when you are at your own home, now they won't able to help you urgently due to far distance. If you're in trouble, they might take sometimes to get into your places and help you.
Instead, get a local emergency number and save it into your phone. Read about emergency telephone number here. Alternatively, you can call your hotel admission or front office for emergency situation.
6. Bring Some Travel Safety Tools With You
Pepper Spray
Bring some pepper spray with you for any bad situation, especially for female. When someone is hassling with you, just spray their eyes with this and run away.
Getting a pepper spray is a bit troublesome nowadays as some countries require to provide some ID's when you purchase this. You can get it from Amazon now:
Portable Door Jammer
Imagine a situation when someone break into your hotel room and do something bad when you're sleeping. Or maybe someone irresponsible from the hotel opened the door with the duplicate keys.
Portable door jammer is a small item that allow you to prevent someone opening the door from inside. Once installed, it prevents anyone from entering the room without first breaking down the door!
Read Also:
6 Travel Gadgets That are Recommended By Frequent Traveler
.
7. Put Emergency Contact inside Your Wallet and Phone
Phone and wallet is the crucial things when you travel alone. All your credit card, identity card, and money is there. So for the safety purpose, it is recommended to put a small note inside them in case you're having bad luck of dropping and lost them somewhere.
Wallet: Write down an emergency contact number of your friends, family, or your social media username in a small piece of paper.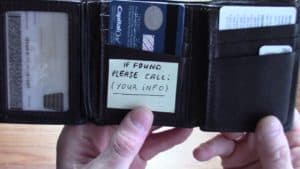 Phone: Put the emergency number and set it as home screen.

You also can add additional text of reward if they return the phone to you.
8. Check in Regularly
It is a good idea for sharing your itinerary with at least one of your family member or friend in advance. You can give them a copy of your itinerary and provide them your flight numbers and accommodation details.
Spend at least one or two times a day to update them that you're doing good. Tell them that you're going to do so. By doing this, they will aware and notice if something happened to you if you did not contact them for more than 24 hours.
9. Take Special Care of Your Belongings
Always bring your passport around and don't leave it at your hotel room. Pay attention and be more alert to your belongings such as phone, wallet, and camera. Never put your belongings in your back pocket which is the easiest way for people to steal from.
Don't bring so many things with you
When you're going out from the hotel, always minimize things that you bring. Don't bring too many bags or hand carry bags with you, it will only slow down your movement and distract your attention. Always keep it simple and just bring items that is necessary.
Stash Your Money into More Than One Place
Storing money into one place can make you less confuse and more accessible. However, it is recommended for you to put money into different places such as hand carry, wallet, inhaler cover, shoe, and even bra!
10. Blend and Respect The Local Culture
Each place has their own culture and tradition that been applied by the locals. As a tourist, it is recommended to follow the culture of the locals.
For instance, you can't wear those short dress or bikinis in a Muslim country. Do some research of the place that you're going to visit.
Remember to be polite to the surrounding. When people get offended because you're being impolite, it can get yourself into a trouble. Avoid the unnecessary trouble.
Besides, blending to a new culture will be a fun thing to do and will help you to refresh your mind from the usual thing you do back in your home country.
11. Make Friends With The Local and Server
You might want to have a little chit chat with the local people and ask them around about the place. If you're lucky, they might recommend you some hidden gems and tourist spot that you don't know yet!
Another benefit of making friend with the local is they can come to aid you if someone starts hassling you.
12. Stay Sober
As you're all by yourself now in a foreign place, being drunk and drugged is a bad idea, especially for female. You don't need to drink to have fun!
If you still want to drink, just remember your limitation and stop drinking when you feel high. Or either you can drink in your hotel room.
Bottom Line
If you're travelling alone for the first time, it is normal to worry and having anxiety of your safety. There will always be a first time for everything, right?